Last week, 4 major central banks (US, UK, Europe and Swiss) raised their main interest rates by 0.5% (Exhibit 1). While all the major banks have slowed down the pace of their rate hikes, their resolve to curb rising price levels remains strong. The S&P 500 fell 2.5% on the same day after the Fed presented its hawkish outlook.
Exhibit 1 – Central Banks' Latest Main Interest Rates

The Federal Reserve (The Fed)
Despite October and November inflation rate data being lower than the consensus estimate, the Fed increased their forecasted terminal Fed Funds Rate (FFR) from 4.6% to 5.1% (Exhibit 2) since their last monetary (FOMC) meeting in September as they project an increase in the inflation rate. The terminal rate is the expected end point for rate hikes. The Fed Chair, Jerome Powell, said that prior months' inflation rate data were not enough to ease off interest rate increases.
The Fed also reduced its GDP forecast for 2023-2025. Notably, the GDP forecast was trimmed from 1.2% to 0.5% in 2023. Furthermore, the Fed increased the unemployment rate forecast for 2023-2025 as well (Exhibit 3).
Exhibit 2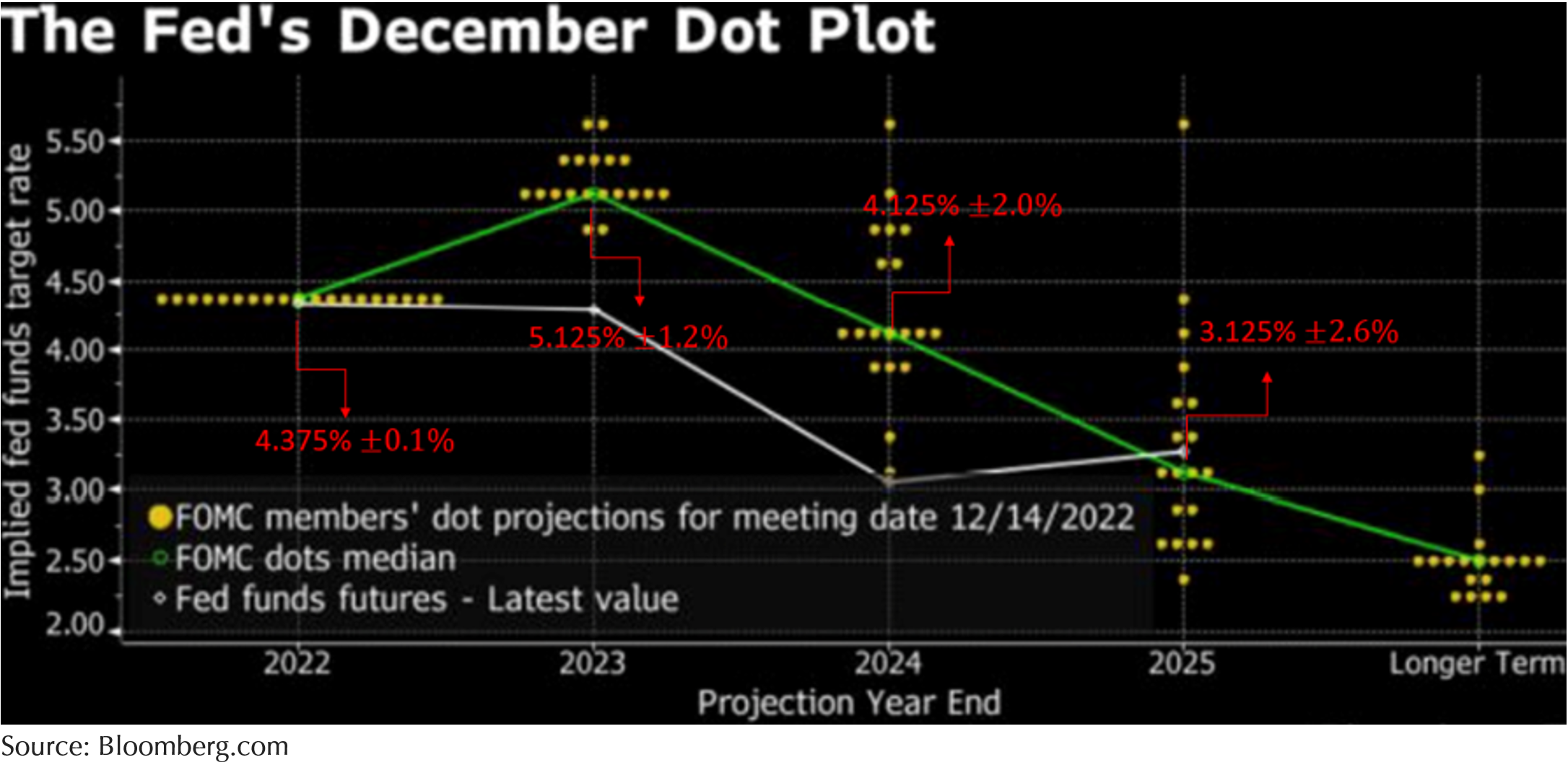 Exhibit 3 – The Fed Change in Forecasts on Rates and Key Economic Indicators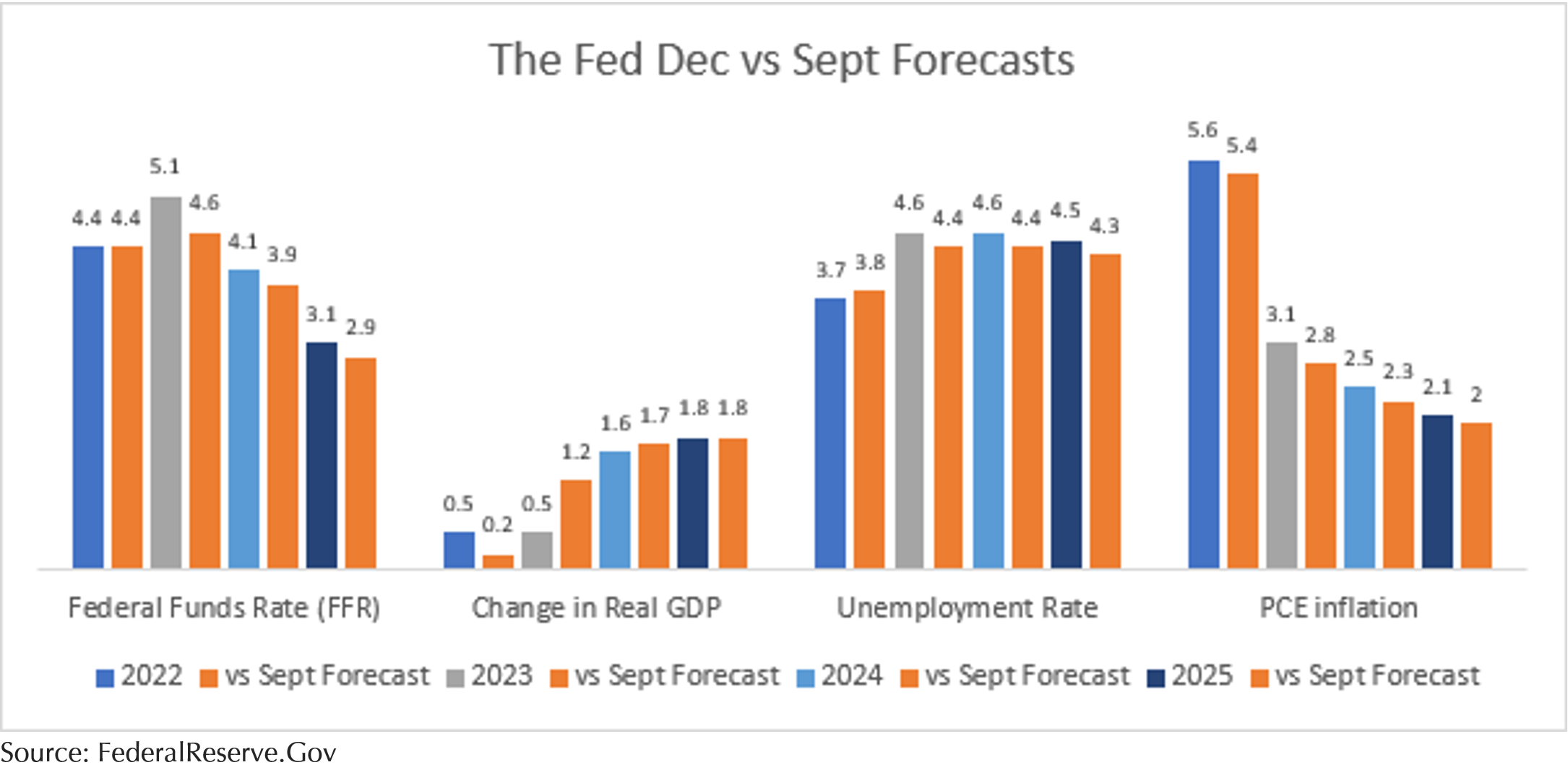 The European Central Bank (ECB)
With regards to taming inflation, the President of ECB, Christine Lagarde, emphasised that they have "more ground to cover compared to the Fed" and expect further rate rises.
They now see average inflation reaching 8.4% in 2022 before decreasing to 6.3% in 2023, with inflation expected to decline markedly over the course of next year. Inflation is then projected to average about 3.4% in 2024 and 2.3% in 2025. The forecast for Europe's GDP is also reduced for 2023 and 2024.
The ECB will also embark on a balance sheet reduction of 15 billion Euros between March 2023 to June 2023.
The Bank of England (BoE)
The BoE expects the inflation rate to remain high until mid-2023 before coming down. While their target inflation rate is at 2%, UK inflation rate is at 11.1% year-on-year in October and 10.7% year-on-year in November. The Monetary Policy Committee commented that inflationary pressure in the UK "justifies a forceful monetary policy response".
The Swiss National Bank (SNB)
Even though Switzerland's inflation rate remains steady at 3% in November, the central bank said it was looking to counter "increased inflationary pressure and a further spread of inflation".
Maintain Your Equity Exposure
While a hawkish outlook increases market woes on higher recession probability, markets being a leading indicator have priced in this probability. Furthermore, history suggests that during periods of high uncertainty, investors who stay invested are more likely to be better off.
Exhibit 4 shows a chart by Dimensional Fund Advisors on the frequency of positive returns for the S&P 500 Index between 1926-2018. The chart shows that the longer you stay invested, the likelihood of a positive return increases.
Exhibit 4

We hope this holiday season brings you joy and happiness. It has been a pleasure working with you this year, and we look forward to continuing our partnership in the new year. If you have any questions or needs over the holidays, please do not hesitate to reach out to your adviser. Wishing you a Merry Christmas and a Happy New Year!
Warmest Regards,
Investment Team
---
We do not charge a fee at the first consultation meeting. If you would like an honest second opinion on your current estate plan, investment portfolio, financial and/or retirement plan, make an appointment with us today.