In July, equities experienced a significant upswing, building on the momentum from the previous month's success. Notably, Dimensional equity funds performed exceptionally well, surpassing the indexes, as value and size premium factors came to the forefront.
This positive market trend could be attributed to several key factors. Firstly, investors responded favourably to the moderation of inflation rates in developed markets, particularly in the US and Euro area. In June, the US core inflation rate decreased from 4.6% to 4.1%, while the Euro area inflation rate dropped from 6.1% to 5.5%. The market may have interpreted this as a signal that central banks might soon end the rate hike cycle, relieving concerns about further rate increases and rising price levels. The prospect of a pause in rate hikes also brought about a reduction in borrowing costs, which was well-received by companies.
Furthermore, the US second quarter GDP outpaced expectations, exceeding the estimated 2%. This robust economic performance reassured investors, diminishing the likelihood of a hard landing scenario.
In addition to the positive developments in developed markets, Emerging Markets also exhibited exceptional performance in July. This can be attributed to China's indication of adopting a more accommodative approach to stimulate consumer spending. Coupled with the increased likelihood of an end to rate hikes and a reduced chance of a hard landing, this contributed to the positive market sentiment in the region.
Overall, July proved to be a highly favourable month for equities, driven by the market's positive response to inflation moderation, solid US GDP growth, and encouraging signals from China's economic policies.
Market Indices and Fund Performance
Examining the stock market indexes (Exhibit 1), the MSCI All Country World IMI, the MSCI World IMI, and S&P 500 showed gains of over 3%, while the MSCI Emerging Markets IMI saw an impressive increase of 6.27%.
Exhibit 1: Equity Market (Index) Performance July 2023 (In USD)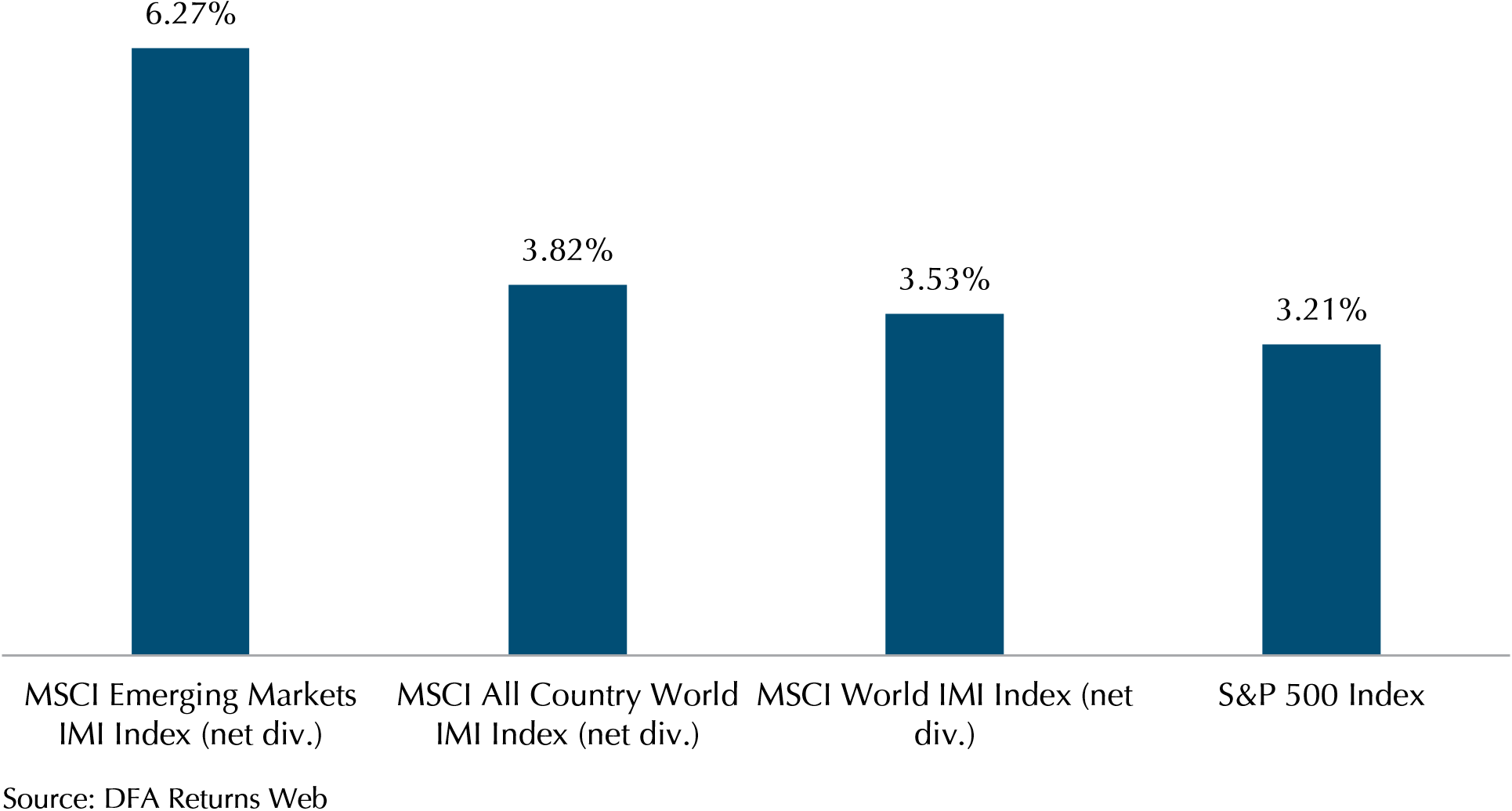 However, Dimensional equity funds performed even better, largely due to their heavier emphasis on value and small size stocks (Exhibit 2). The Emerging Markets Large Cap Core Equity, the Global Targeted Value, the World Equity, and the Global Core Equity recorded gains of 6.06%, 6.03%, 4.08%, and 3.76%, respectively.
Exhibit 2: Dimensional Equity Funds Performance July 2023 (In USD)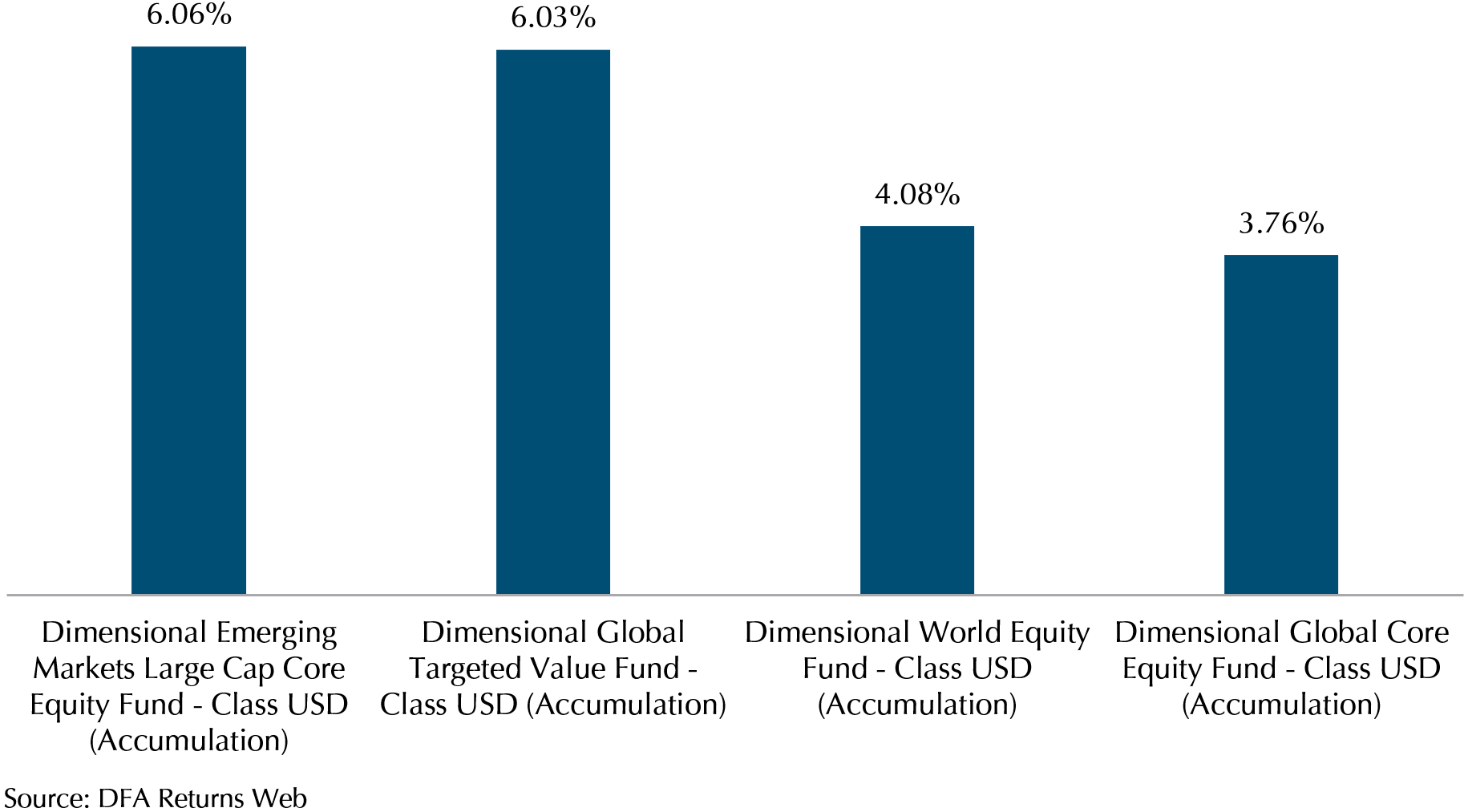 Besides Dimensional equity's exceptional performance relative to the indexes, their fixed income investments also outshined the Bloomberg Global Aggregate index. While the widely cited bond index remained relatively stagnant in July, the Global Short-Term Investment Grade, Global Core Fixed, and Global Short Fixed Income funds demonstrated significant gains of 0.81%, 0.69%, and 0.46% respectively. This outperformance is likely due to Dimensional's strategic decision to have a lower allocation to Japan bonds, which experienced rising yields in July following the Bank of Japan's adjustments to its yield curve control to address rising inflation concerns.
Exhibit 3: Fixed Income – DFA vs Index Performance July 2023 (In USD)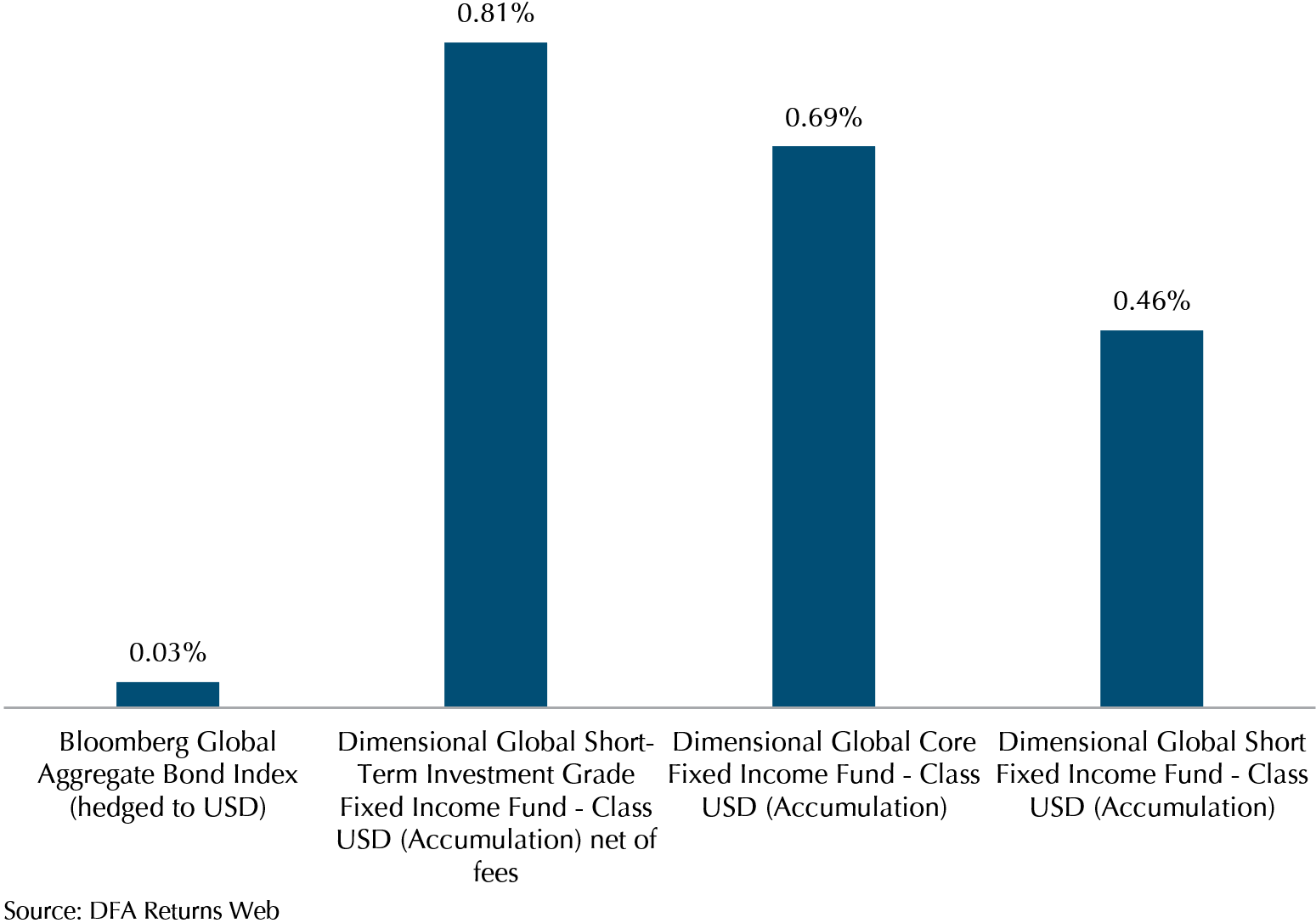 Inflation Showing Signs of Cooling in US and Europe
Since the onset of Russia's invasion in Ukraine, natural gas and food prices have surged significantly, as the war disrupted global supply chains and led to trade embargoes on Russia by the western world. These factors exacerbated the already elevated inflation caused by post-Covid lockdown measures. However, in more recent times, natural gas prices have been on a downward trajectory, and food prices have been decreasing as the global market adapts to the impact of the war in Ukraine.
Exhibit 4 vividly portrays the remarkable decline in natural gas prices, plummeting over 70% from its peak of $9.70 in August 2022 to the current level of $2.60. Several reasons account for this sharp decline. Firstly, Europe shifted a substantial portion of its energy consumption to more cost-effective alternative sources, thereby reducing the demand for natural gas. Additionally, the United States increased its natural gas supply as suppliers were enticed by the higher prices, leading to a subsequent increase in supply to boost their profits. This scenario exemplifies how market forces drive businesses to seek cost reduction strategies and maximize profits even during challenging periods, such as inflationary periods. Consequently, investing in equities remains a promising long-term choice.
Exhibit 4: Natural Gas Price Chart From August 2022 to Present (In USD)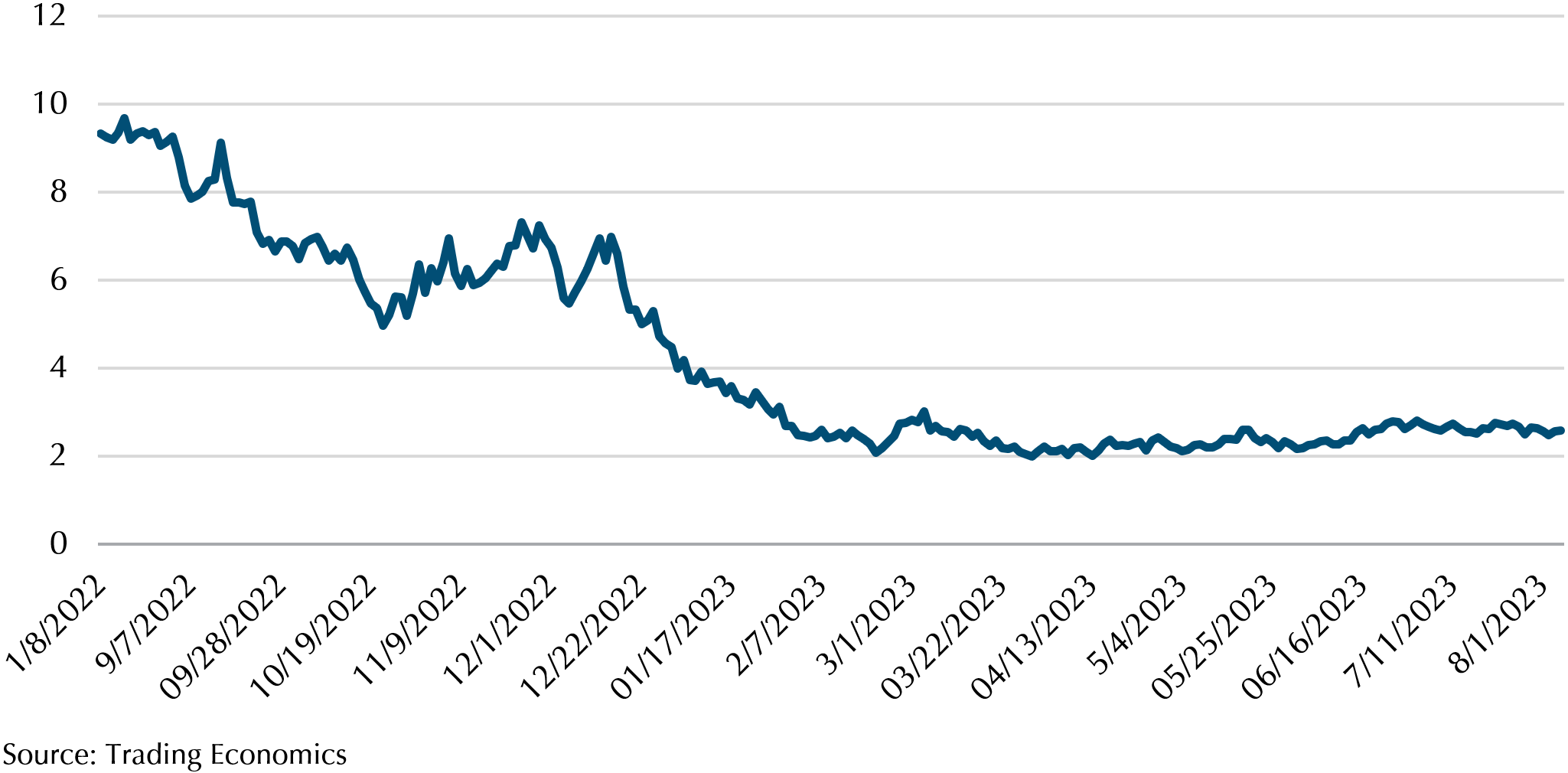 Turning our attention to Exhibit 5, we find a compelling view of the Euro area's headline inflation (blue column), which refers to the overall increase in the average prices of goods and services within an economy, and core inflation (orange line) rates. The headline inflation rate declined from its peak of 10.6% in October 2022 to 5.5% in June 2023. Meanwhile, the more stable core inflation rate, which excludes volatile food and energy prices, showed steady growth for over a year before moderating from its peak of 7.5% in March 2023 to 6.8% in June 2023.
Exhibit 5: Euro Area Headline and Core Inflation Rate (Jan 2022 – June 2023)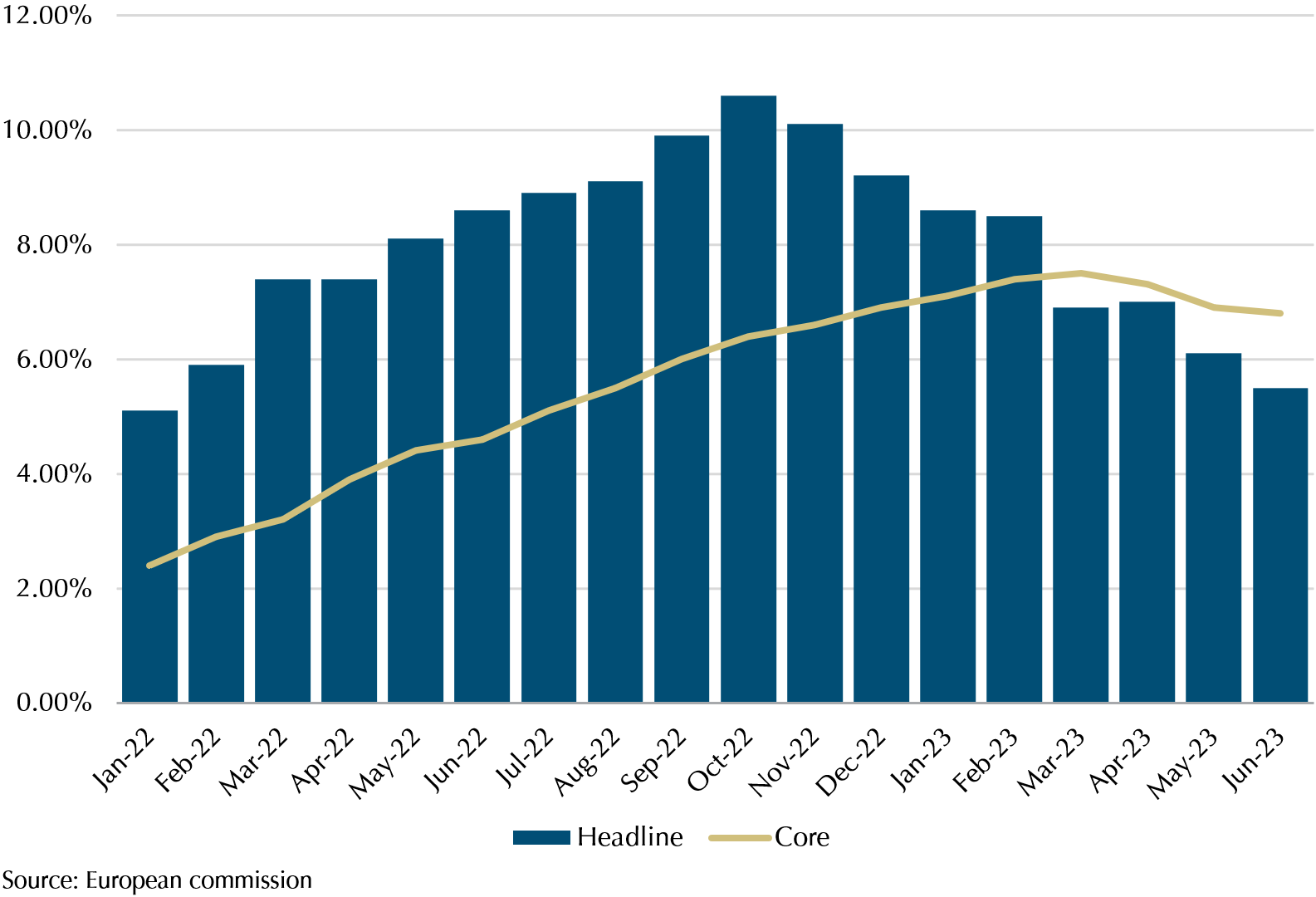 Shifting to Exhibit 6, we analyse the US headline (blue column) and core inflation (orange line) rates. The headline inflation rate decreased from its peak of 6.8% in June 2022 to 3% in June 2023. Concurrently, the less volatile core inflation rate, excluding food and energy prices, demonstrated consistent growth for over a year before decelerating from its peak of 5.4% in February 2023 to 4.1% in June 2023.
Exhibit 6: US Headline and Core Inflation Rate (Jan 2022 – June 2023)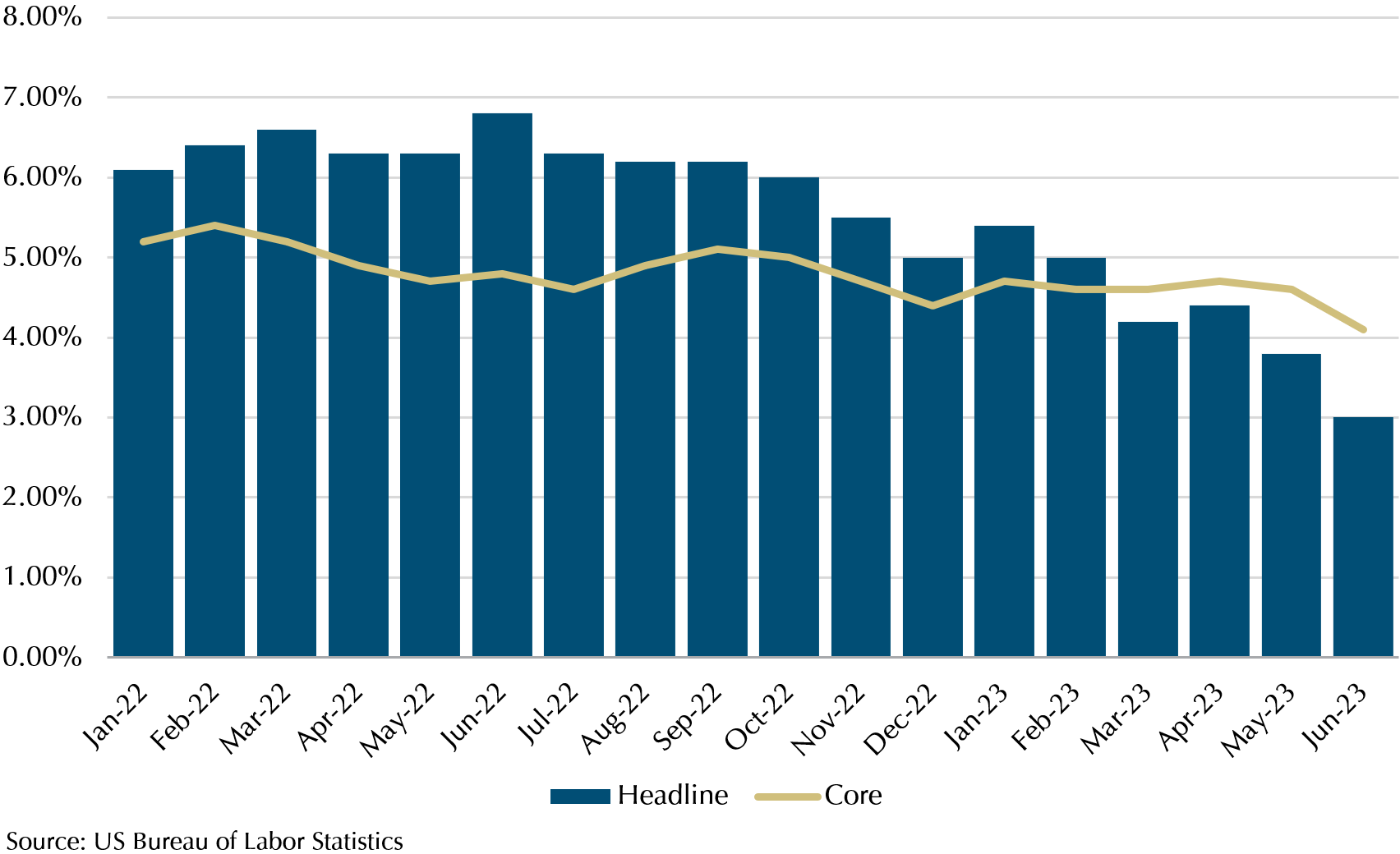 This evidence suggests a cooling trend in inflationary pressures both in the US and Europe, hinting at potential stabilizing economic conditions. However, oil prices have sharply risen in the past month as OPEC+, which stands for the Organization of the Petroleum Exporting Countries Plus, a coalition of oil-producing countries that collaborate on oil production and supply management, has been reducing oil supply to boost prices. Hence, while the central banks rate hike may have been seeping into the inflation rate and driving it down, the future of inflation rate remains uncertain as factors like a sharp increase in oil prices could cause inflation to heat up again.
Embrace Prudence and Persistence in Your Investment Journey 
As we mark a positive month, it is important to recognise that there will always be challenges down the road. Even though there are signs that markets are on the mend, it's vital to cultivate a mindset of investing for the long-term, and not allow short term events to affect your investment plan. Future challenges could make you want to change how you are investing. By understanding how the ups and downs of the market work, you will be better at staying invested, capturing the market returns, and have a better chance of reaching your investment goals.
---
We do not charge a fee at the first consultation meeting. If you would like an honest second opinion on your current estate plan, investment portfolio, financial and/or retirement plan, make an appointment with us today.