We would like to start off by thanking our clients for staying invested with us through the recent market stress caused by the COVID-19 pandemic. By staying invested, we have avoided realizing a loss, and with the US stock market making a new historic high, our portfolios have mostly recovered almost all the 2020 drawdown as of end August 2020. Regardless if you are invested with us through our CPF portfolios, PGP, Index Plus or Index portfolios, your portfolio will be almost back to where it was at the beginning of 2020 (gross of fees and including dividends paid out).
Exhibit 1: August 2020 performance of major stock indexes (USD)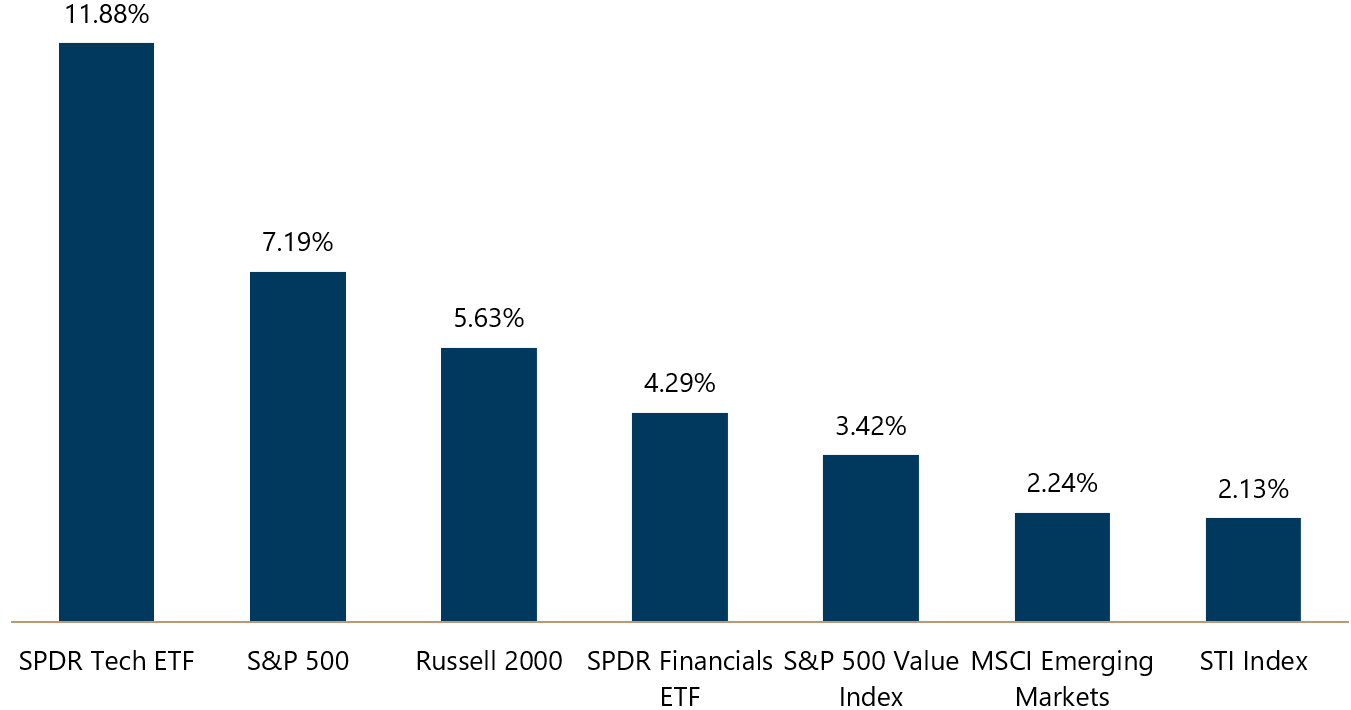 Stocks did well in August
Looking at Exhibit 1 above, we can see in general stocks did well in August as almost all the results are positive. Of course, we see a disparity in the performance. US Tech stocks again had a massive rally, which led the broad S&P 500 up 7.19% for the month. Smaller US companies, as measured by the Russell 2000 Index did post gains of 5.63%. Financials which are more heavily geared to the economic growth of the country lagged tech, while value stocks which are usually cyclical only posted a 3.42% gain. Still, it was better than the Emerging markets at 2.24%, and better than the local STI index which only gained 2.13% for the month.
Is tech getting too big?
The rise of the tech titans (more commonly known as the FAANG) stocks have been grabbing all sorts of headlines, with market commentators saying that they are getting too big and the stock market is only going up because of these few stocks. The stock market as we know has been going up over time, so let's look at the data to see if a few stocks being a large part of the stock market is a new occurrence.
Exhibit 2: Weight of largest stocks by market capitalization in the US stock market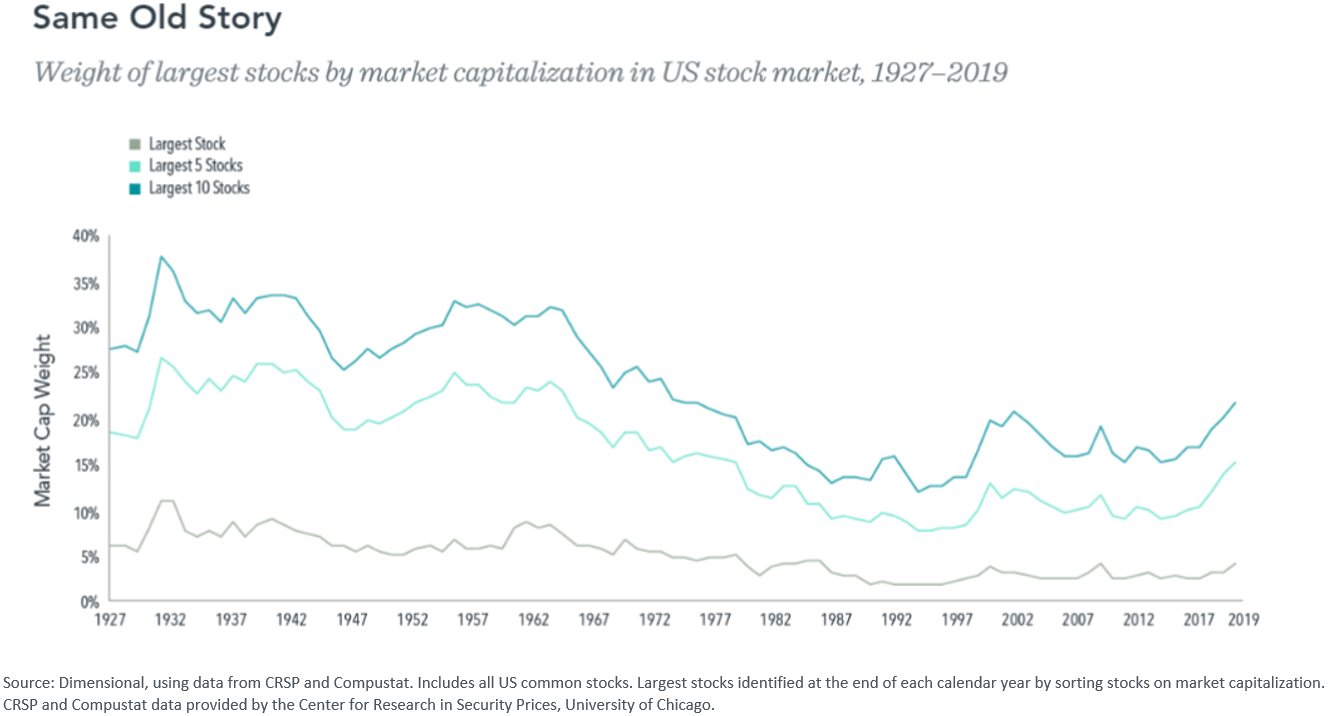 The chart above shows that this is actually a very common feature of the stock market. The largest stocks have historically been 10-20% of the entire stock market (as measured by market capitalization).
What happens to stocks after they become some of the largest in the stock market?
Next, we might want to know what usually happens to stocks after they become the largest. Will they keep growing and delivering returns to shareholders? Looking at the data below, we can see that it is not a given that the largest stocks will continue to deliver market-beating returns after becoming the largest. Do note that the returns we are talking about are excess returns to the market, so these stocks can continue to deliver positive returns to shareholders and strong profits, but they do not necessarily stay the best performers and beat the market return.
Exhibit 3: Annualised return in excess of market for largest stocks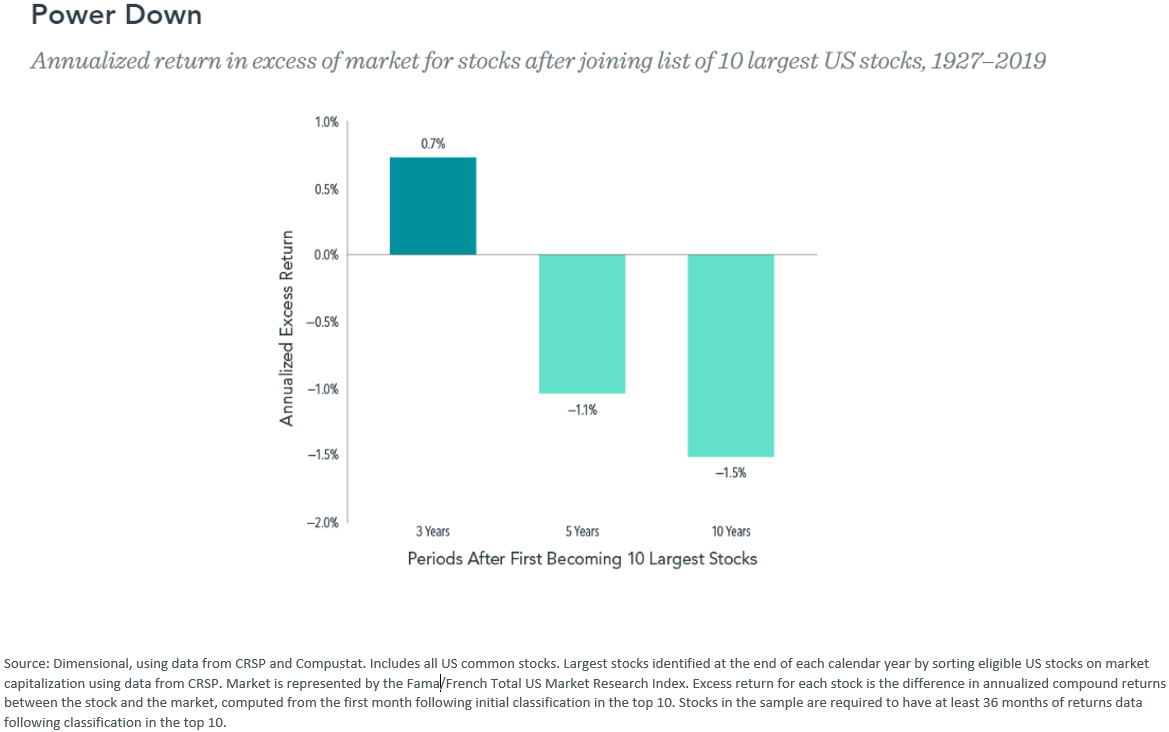 What is next for stocks?
Now that we have hit a new record high, what can we expect? Well, if history proves to be any indicator, then we can expect more new record highs. Every time the US market went up since early 2016, when we switched our portfolios first to ETFs and then to Dimensional and Vanguard funds, there has been a new record high, all through 2017, most of 2018 and most of 2019. Similarly, after the S&P 500 claimed a new high in late August, we have seen stocks continue to rally into September, making newer highs every day.
Exhibit 4: Expect more new highs after a new high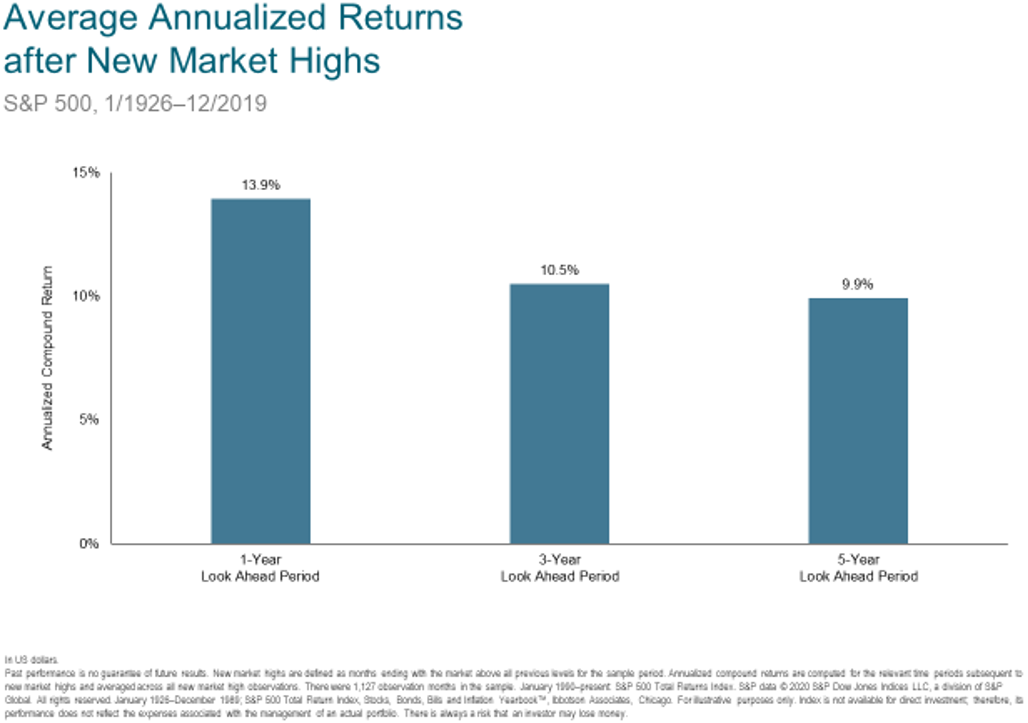 What if this time it's different?
While we cannot reliably predict the future, we can expect that companies across the world continue to focus on delivering profits and hence returns to their shareholders (or it would not make sense to operate a company). If somehow US stocks fail to perform well going forward, or if somehow the largest stocks such as the FAANNGs stop outperforming, what will happen to our portfolios? After all, even Warren Buffet, a huge fan of investing in his home market of the US, has decided to take huge stakes in 5 large Japanese trading houses.
The nice part about being in globally diversified portfolios is that you are already invested in the next "big" thing, even before it happens. While our portfolios have the FAANNGs and they have been huge contributors to our returns, we do not just hold 6 stocks. We hold thousands of stocks in the portfolios through the funds we have invested in. For example, the 5 stocks that Warren Buffet bought in Japan, Mitsubishi Corp, Mitsui & Co., Itochu Corp, Sumitomo Corp, and Marubeni Corp, are already in our portfolios. The Dimensional Global Core Equity Fund, Dimensional World Equity Fund, Vanguard Global Stock Index Fund, and Vanguard Japan Stock Index Fund are invested in these companies. Of course, we do not know how these stocks will perform in the future, but it does not hurt to have one of the most successful investors in the world on your side!
Aside from these stocks, we are invested in smaller companies and cheaper companies (value), not to mention emerging markets, that have not rallied as much as the tech giants, so there is still room for these holdings in the portfolio to perform (see Exhibit 1). As the world continues to work its way out of the economic disruption caused by the pandemic, the outlook for smaller companies and companies in cyclical businesses will improve, allowing the share prices of these companies to close the gap with the tech front runners.
What should you do after the market hits a new high?
The answer is to stay invested in a globally diversified portfolio to continue to capture the expected returns from investing in a risky asset. One of the best ways to grow your wealth is to invest in profitable businesses, and that is the goal of our portfolios at Providend. All this of course is done in the context of your financial plan, which incorporates your long-term goals and your risk appetite.
As always, your advisers remain available for a discussion if you have a question or would like to take stock of your financial situation. Keep safe and healthy, and thank you for your continued support.
Warmest Regards,
Investment Team
---
We do not charge a fee at the first consultation meeting. If you would like an honest second opinion on your current estate plan, investment portfolio, financial and/or retirement plan, make an appointment with us today.