January was a good month for most of our portfolios, despite the broader markets being down for the month. This is because our allocations to smaller companies and to emerging market stocks helped to overcome the losses in larger companies and fixed income. Our Index Plus portfolios managed to remain flat for the month in USD, and in SGD, delivered small gains as the US dollar was stronger over the course of January. Unfortunately, the Index portfolios that passively track indexes naturally did not do as well. 
Exhibit 1: Jan 2021 returns for major stock and bond indexes (in USD and hedged USD for bonds)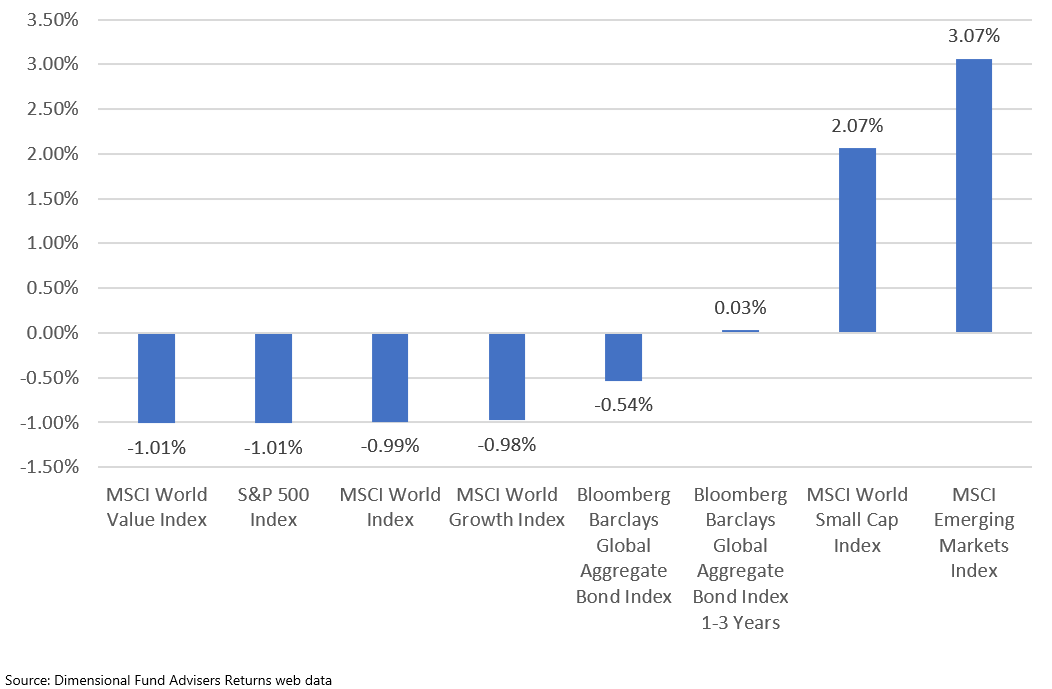 Looking at how the indices did in January, we can see from the data above that large companies, as represented by the S&P 500 and MSCI World indexes did not do well. Regardless of the growth or value factor, large company stocks fell about 1% over January. Intermediate term bonds also fell over the month, with the Global Aggregate index down 0.54%. Rising 10-year bond yields (due to economic growth and inflation expectations) rose over the month of January, with the US 10-year treasury yield hitting around 1.15% at one point, from a low of 0.93% to start the month.
Allocate your assets according to your risk tolerance
Referring to the chart above, we see that short term bonds (1-3 years index) kept their value over month even though the intermediate bonds fell. This is why our Low Risk and Conservative portfolios only hold shorter term bonds, as they are designed for clients that desire a less risky investment option. With 60 to 80% of the portfolios in short term bonds, the value of the portfolios is less likely to be affected if stocks fall, such as during January this year.
Diversification helps to improve returns
We have made this point many times, but the performance in January serves as a real life example of how it works. With smaller companies doing well over the month, our Index Plus (100% stocks) portfolio with a small company allocation outperformed our Index (100% stocks) portfolio by 38 basis points (0.38%). It is possible, with diversification to have positive returns even if the broad market is flat or down.
Did we have the best performing stock in January?
Yes, our Index Plus portfolios had a position in Gamestop (GME). Diversification allows you to hold the best performing stocks at every period!
I think by now most have heard about how the stock rose 1,900% in January in one of the most exciting moments for markets in recent times. All our Index Plus portfolios had a position in Gamestop via our allocations to funds managed by Dimensional Fund Advisors[1]. Needless to say, it has been a very profitable position despite its small allocation in the portfolio.
A disciplined process helps to capture returns
What is important though, is to know how the fund manager manages the position when it goes up. Fund managers can generate a return from holding a stock in 2 ways: 1) Sell it when it goes up and 2) Lend it out to short sellers for a fee. Every position in a portfolio will have a target weight based on the characteristics of the stock. In this case, being a small company initially, would have had a small weight in the portfolio. As the stock price rises, the company size grows larger, and it is no longer a small company, it necessitates that the manager will look to sell some of the stock to reduce the size of the position in the portfolio, and at the same time capturing the returns for the investors. If demand to sell the stock is very high though, the fee for borrowing the stock might rise, and the manager might instead decide to hold some stock. Gamestop's example, the cost of borrow rose to 30-50% at the peak, so[2], it would have also made a handsome return for the funds to lend the stock out.
Our managers balance the risk/reward between the 2 options and decide on how much of the position to sell. This is a process that is repeated every day for every position in the portfolio, not just ones that go up a lot in a short period of time. It is this rigour and process that managers we work with bring to our portfolios, helping clients capture the returns from stocks and bonds daily.
Cash is King
At Providend, we believe that taking care of cash is important, as it provides you the ability to achieve your life goals. After all, we must realise the returns from our investment portfolios and put the cash to use elsewhere.
As such, we are pleased to announce that we have a new cash management solution. This solution is designed with 3 goals in mind: 1) Capital preservation 2) Achieve a higher yield than cash in the bank and 3) Provide liquidity when needed.
What we have done is putting together a portfolio of 3 funds that meet these needs and deliver on all 3 goals.
1. Capital Preservation: The funds are designed not to experience drawdowns in capital value. The funds do not mark to market or invest in securities that are mark to market, instead amortising the value of the securities to maturity. This allows the funds to maintain their NAV and not experience drawdowns, allowing clients to preserve capital.
2. Higher Yield: Before any advisory fees, the average yield of the portfolio is around 1.2%, which is higher than a typical 12-month Fixed Deposit at current rates[3].
3. Liquidity: Clients will be able to redeem and have the cash transferred to their bank account in T+4 days, so the liquidity is adequate for all but the most pressing of situations.
Our advisers will be able to go through this in greater detail, so if you are keen to find out more, do make an appointment to chat to your adviser.
Blessings and Prosperity for the Year of the Ox
As Chinese New Year is fast approaching, we would like to wish all our clients a healthy and prosperous Year of the Ox. 新年快乐,恭喜发财,万事如意! Thank you for your continued trust and support.
Warmest Regards,
Investment Team
[1] Nine Investors Instantly Make $16 Billion On GameStop Stock 'Squeeze' (investors.com); [2] GameStop short sellers are still not surrendering despite nearly $20 billion in losses this month (cnbc.com); [3] 7 Best Fixed Deposit Rates in Singapore (Feb 2021) — DBS, Maybank & More (moneysmart.sg)
---
We do not charge a fee at the first consultation meeting. If you would like an honest second opinion on your current estate plan, investment portfolio, financial and/or retirement plan, make an appointment with us today.