Should you sell in May?

If you were reading the financial news headlines in May, you can be forgiven for thinking that it was not a very exciting month in the stock market as the S&P 500 rose 0.7% for the month, after falling for 3 weeks in a row. If you were keeping tabs on what you were invested in, you might have been feeling a little more excited indeed, as our funds continued to deliver returns in line with a globally diversified portfolio.
Exhibit 1: Fund and Index returns, May 2021 in USD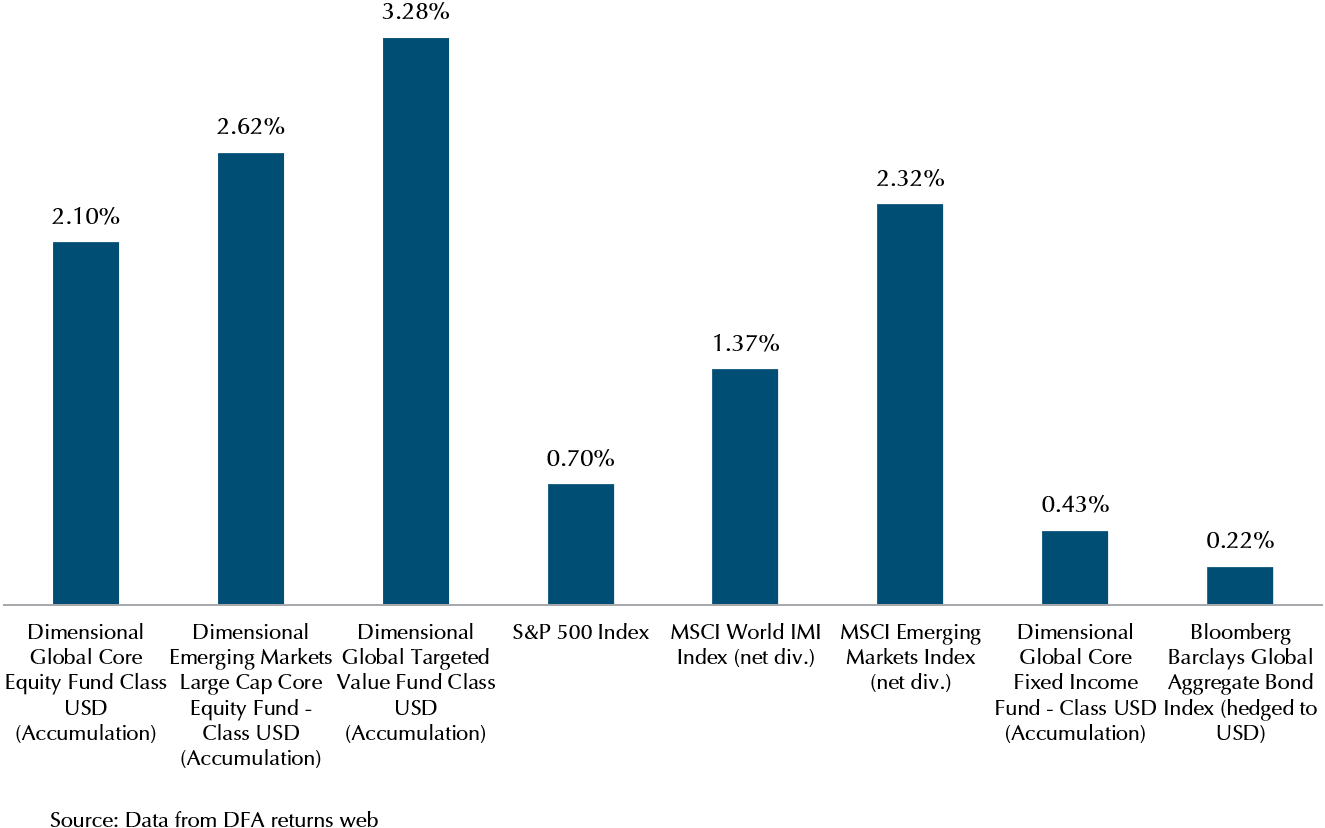 Looking at the data above, we can see that equities outside of the US had a very strong month, as both our global equity, and the emerging market funds delivered returns of greater than 130 basis points (1.3%) above the S&P 500 for the month.
Compared to the standard index, the Global Core Equity Fund outperformed the MSCI World IMI Index, and the Emerging Markets Large Cap Core Equity Fund outperformed the MSCI EM Index. What this means, is that the tilts to value stocks continue to deliver above market returns, allowing the Dimensional funds to continue to outperform the index in 2021.
Our portfolios have an additional component that expresses an allocation to value and small stocks exclusively, and that is the Global Targeted Value Fund. This fund returned 3.28% in May, handily outperforming all the other funds and indexes. This highlights that small stocks and value stocks continue to maintain their positive momentum.
Looking over at fixed income, we see positive returns in bonds as yields stabilised in May, retreating from their highs as inflation expectations are more measured. The Dimensional Global Core Fixed Income Fund outperformed the Barclays Global Aggregate, as the fund's flexibility to look for higher expected returns in longer dated bonds and bonds with higher credit spreads allows it to capture higher fixed income returns.
Diversification captures returns
Exhibit 2: Compound average annual returns, 1994-2019
We have said it before, but it is worth highlighting again, that global diversification helps to capture returns. As we can see from the performance in May, US stocks which have been some of the best performers in the past few years did not have as good a month as other global stocks. Our diversification has helped us to capture these returns for your portfolio. The chart above shows that if we miss out on holding the top 10% of performers each year, we lose out on a lot of returns, and the only way to consistently hold the top 10% of performers is to be very diversified.
Small (Value) making a comeback
Exhibit 3: Targeted Value vs MSCI World, end-Feb 2020 to present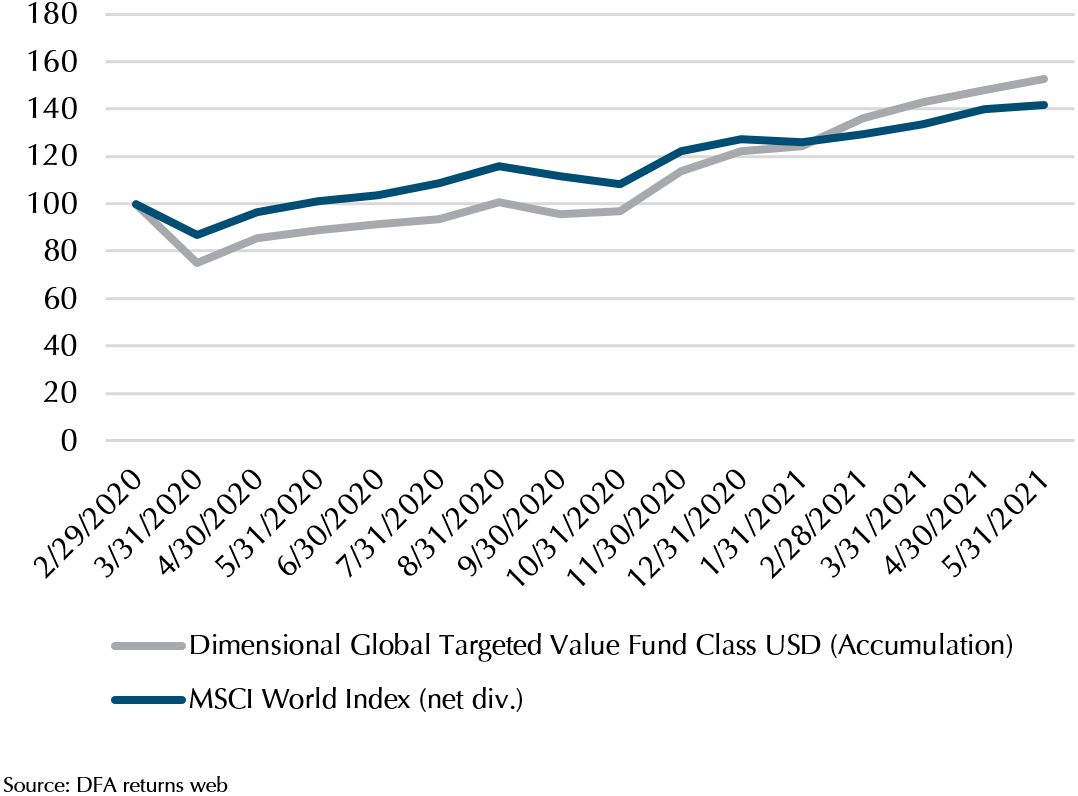 One of the stories of the past few months is how small and value stocks have suddenly started to outperform after years of underperformance. The chart above just shows the past year, going into the pandemic, how much small value stocks (represented by the Targeted Value Fund) underperformed as compared to large growth stocks (represented by the MSCI World Index) until we finally got the good news about vaccines in November, and the world started to believe that an economic rebound would be possible in 2021.
Since then, we have one of the largest swings in premiums, with small value stocks outperforming large growth stocks by a huge margin.
Exhibit 4: Targeted Value vs MSCI World, end-Sep 2020 to present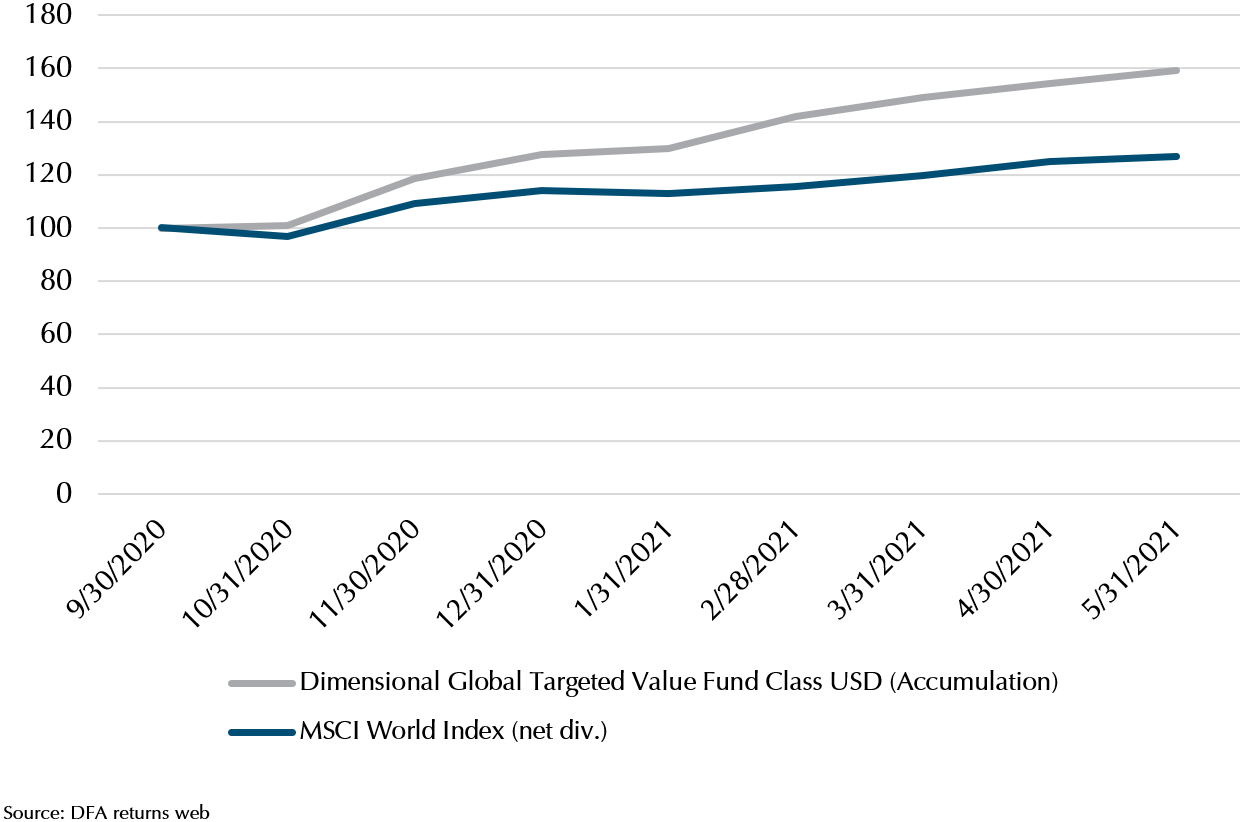 Premiums can appear very suddenly and can change the entire picture in a short span of time. Last August, nobody wanted to hold value stocks. Now, everyone is talking about value stocks. That was less than 10 months ago!
Don't sell in May, stay invested instead
I think we have tried to answer the question that was posed in the title. It is not a good idea to sell in May if you have invested in a globally diversified portfolio, as you will potentially miss out on good returns. (Last May was a pretty good month too if memory serves).
As we head into a new phase of the pandemic, particularly in Asia, we would like to let you know that our advisers are still available to answer any questions you have. Do stay safe, protect your health, and stay invested. Thank you for your continued trust and support.
Warmest Regards,
Investment Team
---
We do not charge a fee at the first consultation meeting. If you would like an honest second opinion on your current estate plan, investment portfolio, financial and/or retirement plan, make an appointment with us today.