Not all stocks behave the same way
September has provided some different headlines other than "stock markets set a new record high", as stocks and bonds fell for the month, and US stocks in particular had their worst month since March 2020. Add in a sharp rise in Treasury yields, and you have the potent mix of both bonds and stocks falling in the month, resulting in generally terrible performance for the typical stock and bond portfolio.
Exhibit 1: Reference index performance September 2021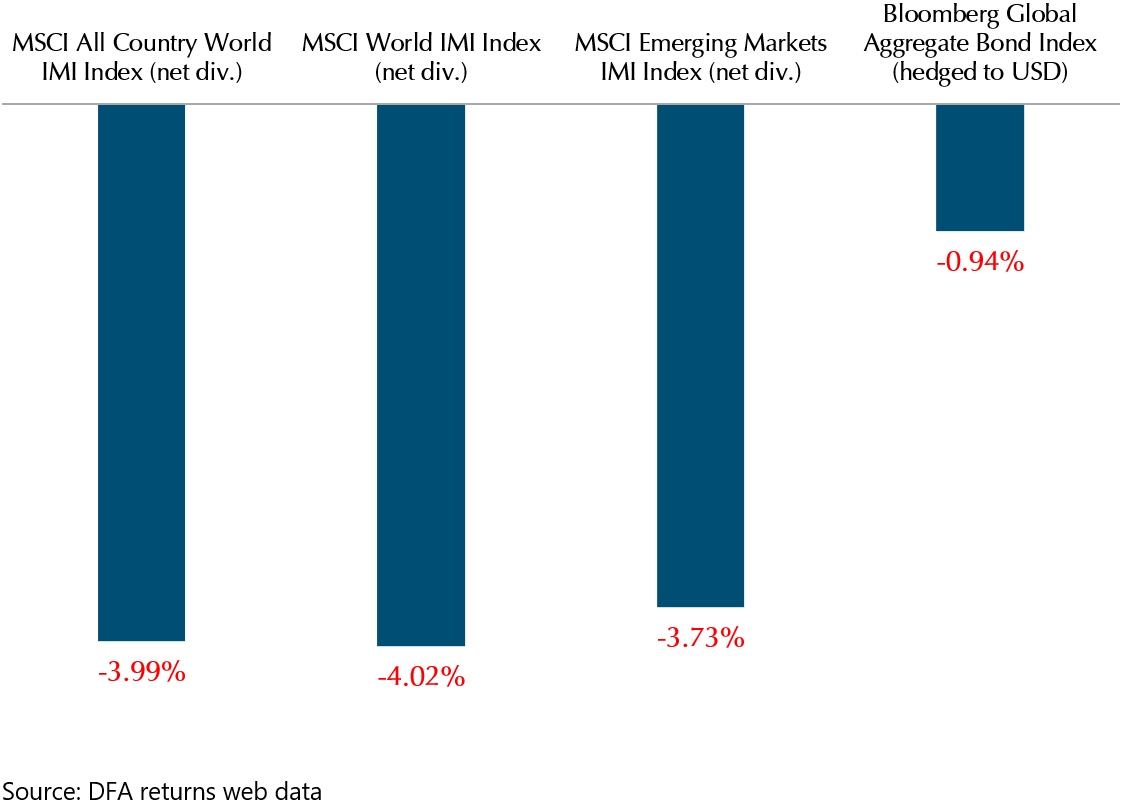 Looking at the data above, we can see that Developed Market stocks, Emerging Market stocks and Global bonds all fell in September, as various concerns such as inflation, Fed tapering, slowing economic growth due to the Delta variant of covid, and slowing economic growth in China all took their toll on both stocks and bonds.
When we look at how the Dimensional funds performed, we can see that the general direction is the same, but for the stock funds, they actually performed better than the reference indexes. We can see why when we look at the performance of the Global Targeted Value fund. This fund holds small companies that are considered value stocks by Dimensional, as measured by a low Price to Book ratio. That is, the stocks have a low market capitalisation (price) as compared to their net asset value on the balance sheet (book value). This fund fell 1.93% in Sep 2021, far outperforming the reference indexes and the Core Equity fund that fell around 4% for the month.
The other thing to note is that the Short-Term bond funds fulfilled their purpose of reducing the portfolio volatility and preserving capital for our lower risk portfolios. Not all bonds are the same, and we see the reference Barclays Global Aggregate down almost 1% for the month as 10-year yields rose. In contrast the Short-Term bond funds had much smaller falls, reducing the volatility of the portfolios that they are in.
Exhibit 2: Dimensional fund performance September 2021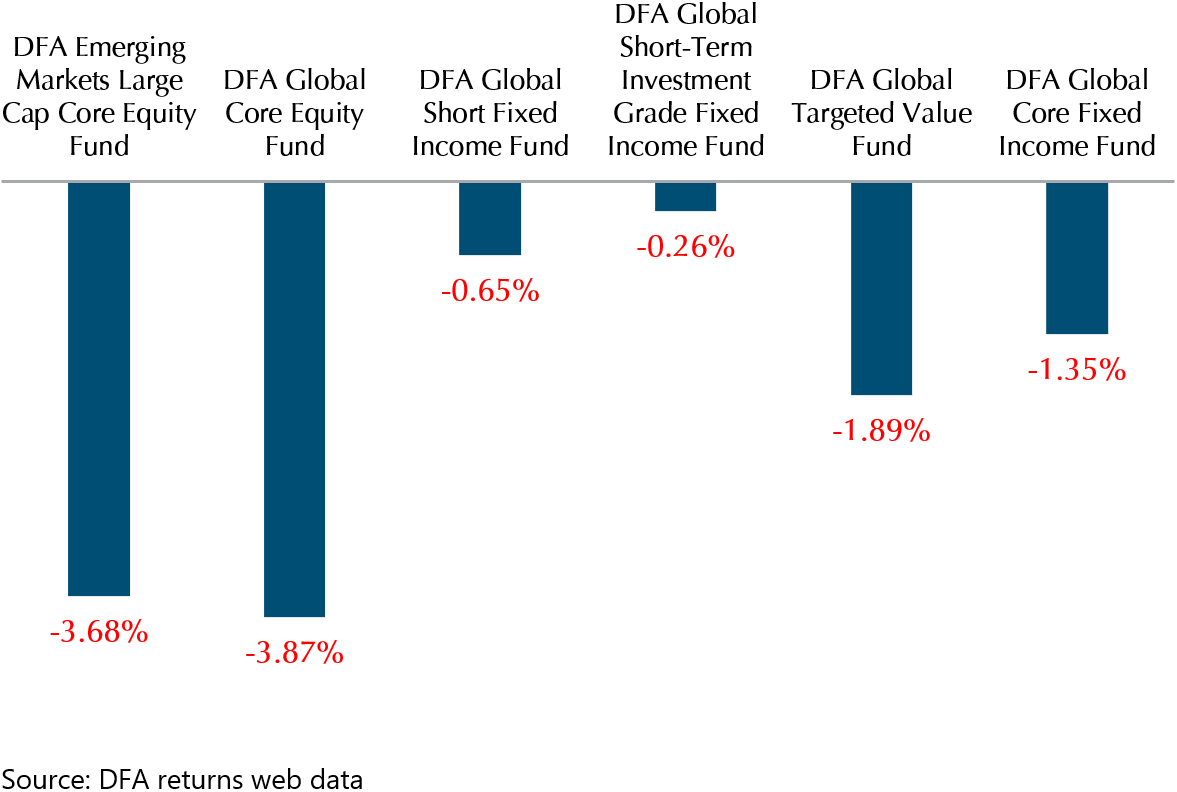 Context matters
Despite the fall in September, a quick look at the YTD numbers shows healthy returns for stocks, while bonds continue to have a difficult year due to the fact that yields started the year at record lows, and have spent most of the year trending higher.
Exhibit 3: Reference index performance YTD 30 Sep 2021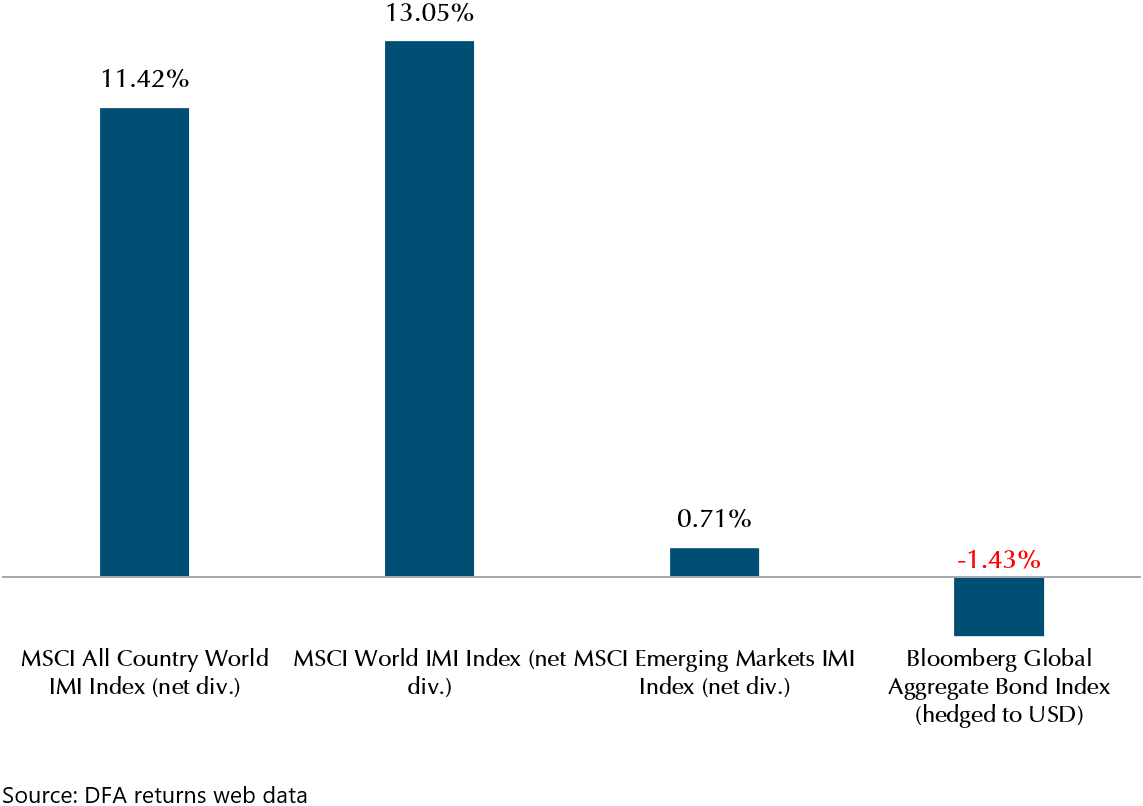 Exhibit 4: Dimensional fund performance YTD Sep 30 2021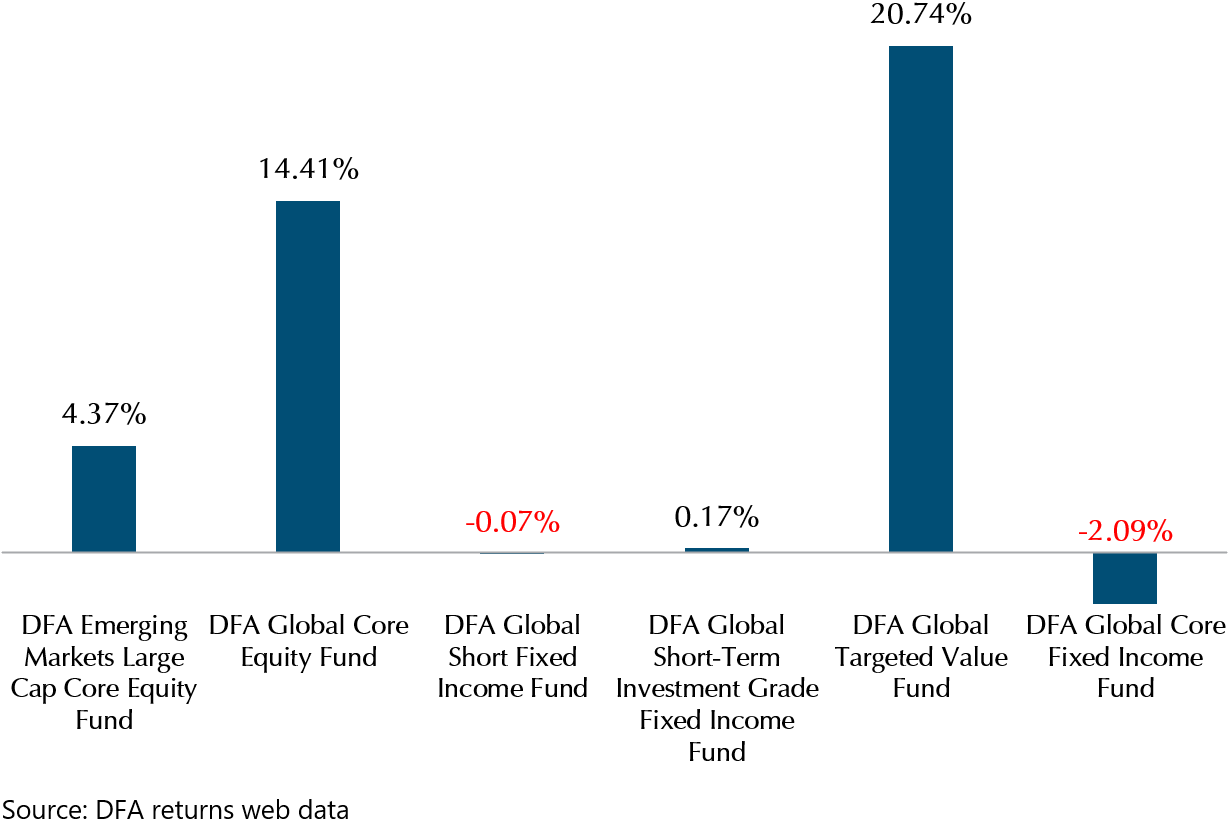 Looking above at Exhibits 3 and 4, we see that Developed Market small and value stocks have done the best so far this year, with core Developed Market equities next and last of all Emerging Market stocks still up for the year but with a much more modest gain. What's notable is that the value and small premium is also strongly showing up in Emerging Market stocks as the DFA Emerging Market stock fund is outperforming the MSCI Emerging Markets Index (not shown in charts, -1.25% YTD) by around 5%.
A difference in value
There has been a lot of chatter recently about the high prices of US stocks, and the lower expected returns we should be seeing in the future. That is an entirely possible scenario, which is why we have been constantly reinforcing the message that we are diversified not just in the number of stocks we own, but into different factors that are present in the stock market.
It was not too long ago that from 2000 – 2010, US stocks endured a "lost decade" but value stocks outperformed over that period, so simply buying and holding the general index might not have done anything for your portfolio, but if you had allocations to the value factor, you would have done better.
Exhibit 5 below shows that if you had invested $1000 into the MSCI World index on 31st Dec 1999 and held it till 31st Dec 2010, you would have had barely any returns, while if you had invested that same $1000 into the MSCI World Value index over the same period you would have had a 50% return.
Diversification helps not just to reduce risk, but to also capture the returns.
Exhibit 5: Growth of wealth, MSCI World, MSCI World IMI and MSCI World Value Index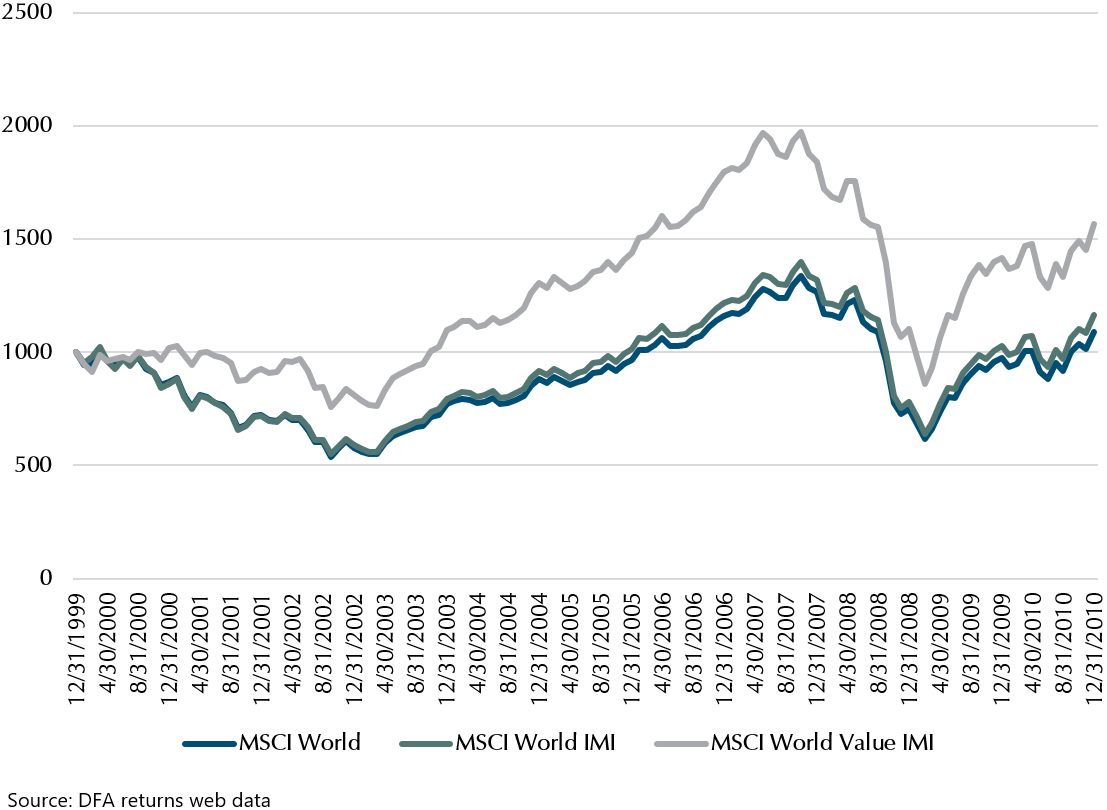 Providend's ESG portfolios
Providend recently celebrated its 20th anniversary by hosting a series of webinars on ESG that showcased some of the research we have done into ESG investing and our ESG portfolios.
Is there an ESG premium?
We set about to answer the question "Is there an ESG premium?". There has been a lot of discussion about ESG investing, which is using non-financial factors of Environment, Social and Governance practises of companies to identify material risks and growth opportunities, and possibly deliver a higher than market return (the ESG premium).
We looked at research from Vanguard [1], the OECD [2] and Morningstar [3] to name a few, and the short summary would be that at present it is difficult to find in the data that an ESG premium is present.
[1] Plagge and Grim, Feb 2020, The Journal of Portfolio Management, Volume 46 number 3
[2] Boffo, R., and R. Patalano, 2020, ESG Investing: Practices, Progress and Challenges", OECD Paris
[3] Wang and Sargis, Feb 2020, Better Minus Worse Evaluating ESG Effects on Risk and Return, Morningstar Quantitative Research
The research finds that it is the investment managers approach that delivers the return, not any particular ESG factor. For example, if a manager was focused on large cap growth investing, they would have done very well in 2020, and that was the driver of investment returns, not ESG. Similarly, an ESG focused fund that focused on small caps and value investing would have done much worse in 2020.
ESG is important even without a premium
Although there is no clear evidence that ESG has significant impact on expected return, it is likely that without collective attention to E, S, and G, the global society and community will suffer over the long run (Based on scientific research into climate change, the positive impact of good social policy, and the effect that good governance has on company performance and stock price).
Therefore, even with the possibility of additional cost incurred in ESG investing, we see investors (both institutional investors; as well as individual investors) embracing ESG investing principles, with the aim of creating a movement for a better future for all humanity.
We at Providend believe this is very important too. Therefore, we decided to build a set of robust ESG portfolios to allow our clients to express their views while achieving their wealth goals in a manner consistent with our investment framework.
Introducing our ESG portfolios
Our ESG portfolios will give you an experience similar to our Index Plus portfolios, with a focus on the value, small company and profitability factors, with the added benefit of a tangible expression to reduce the impact of the portfolio on climate change.
One of the major contributors to global warming is CO2 emissions. The portfolio looks to reduce exposure to CO2 emissions (as measured by tons of CO2 emissions/million sales). It does so via an exclusion of the highest 10% CO2 emitters for each industry sector. This allows the portfolio to maintain strong diversification despite running an exclusionary rule.
Exhibit 6: Reduction of emissions exposure in the ESG portfolio equity fund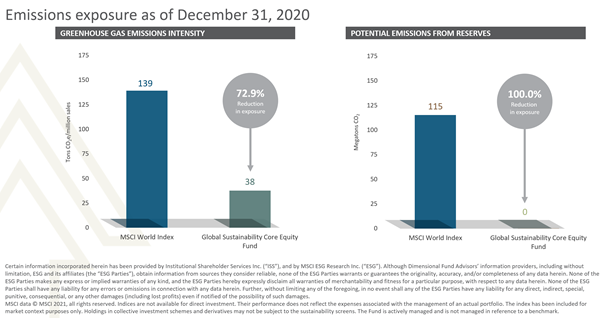 Below you will find the infographics on our 3 new ESG portfolios. Do send us an enquiry if you are interested to find out more.
Exhibit 7: ESG Balanced Portfolio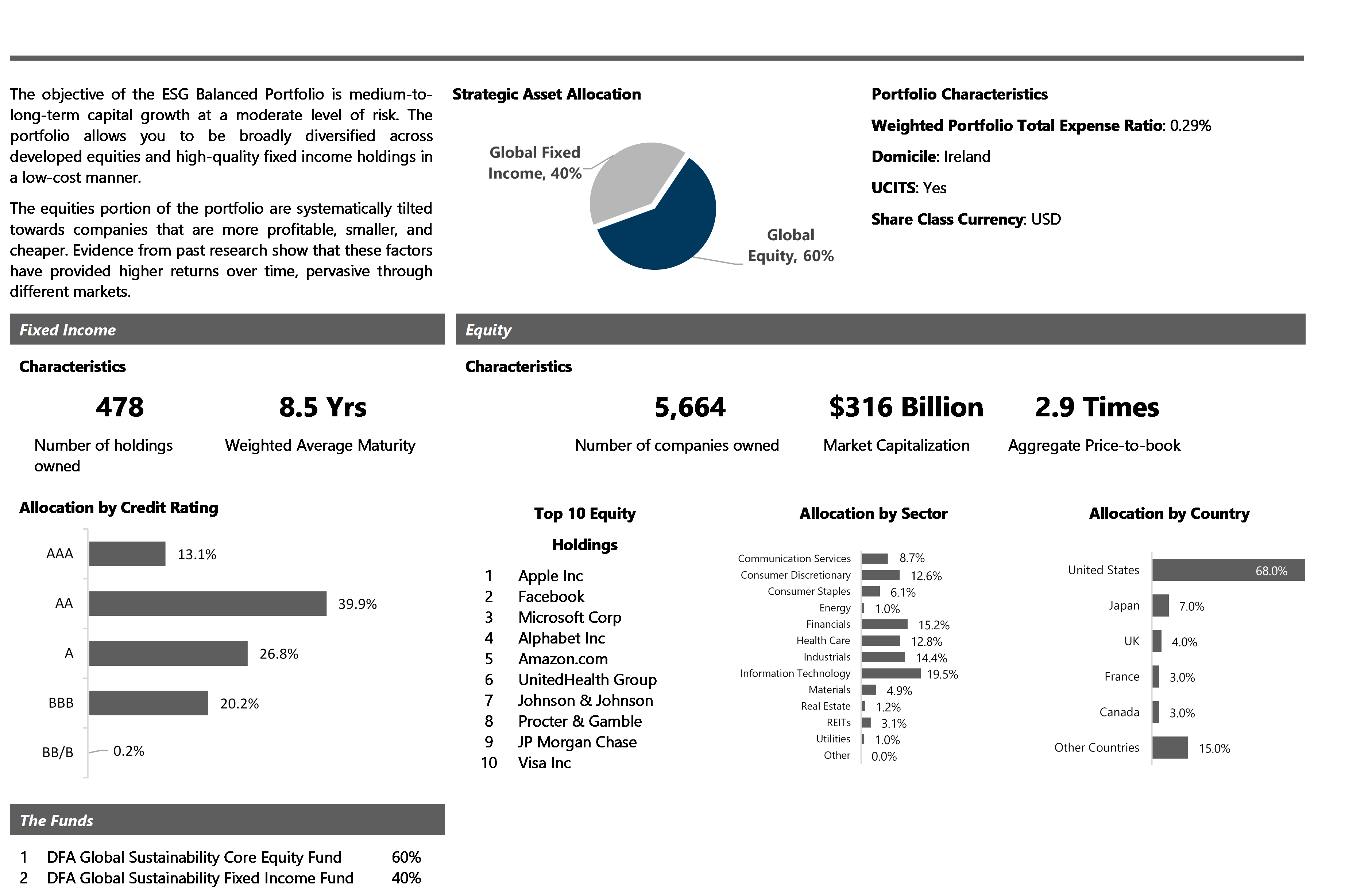 Exhibit 8: ESG Growth Portfolio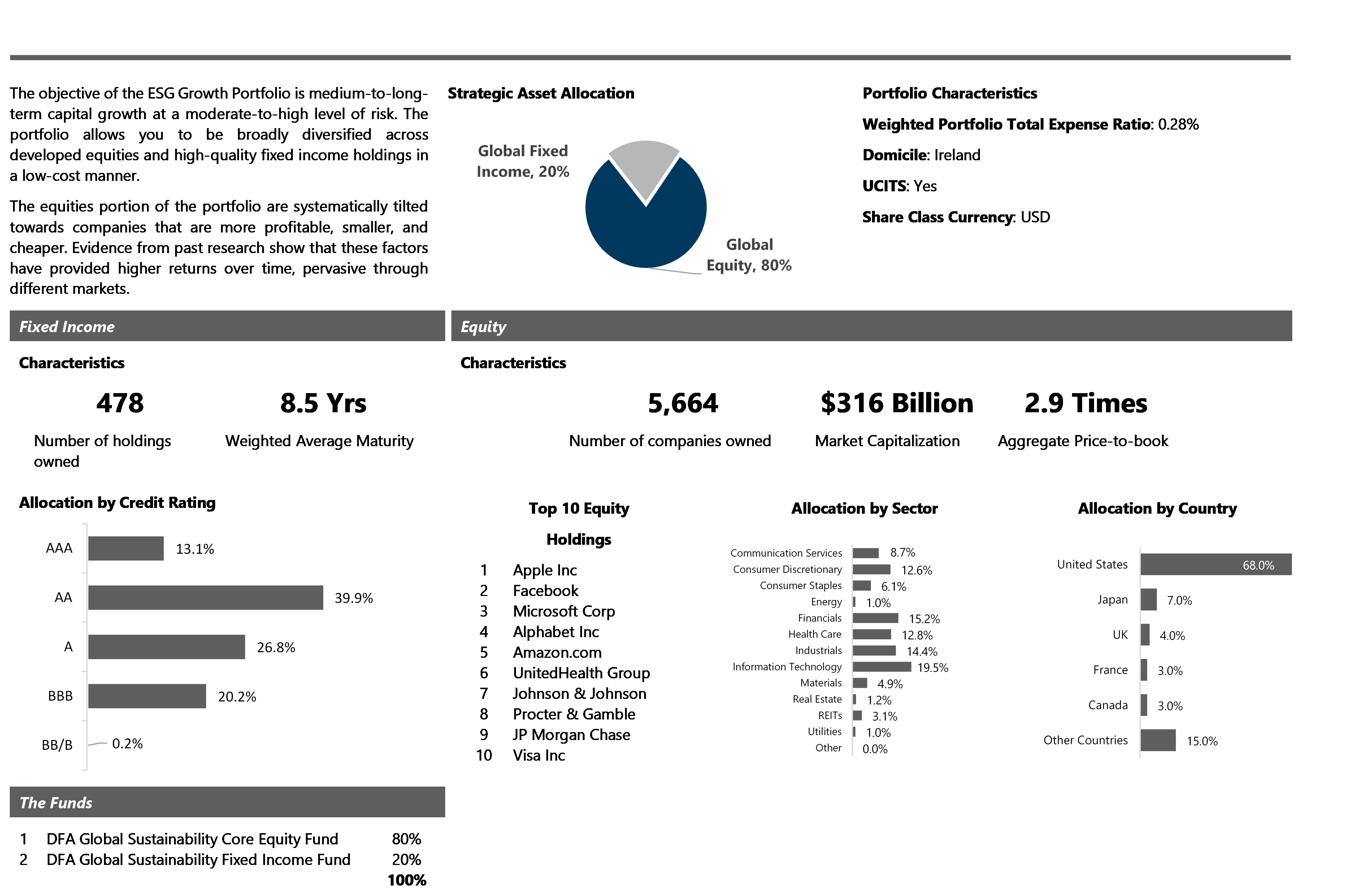 Exhibit 9: ESG Equity Portfolio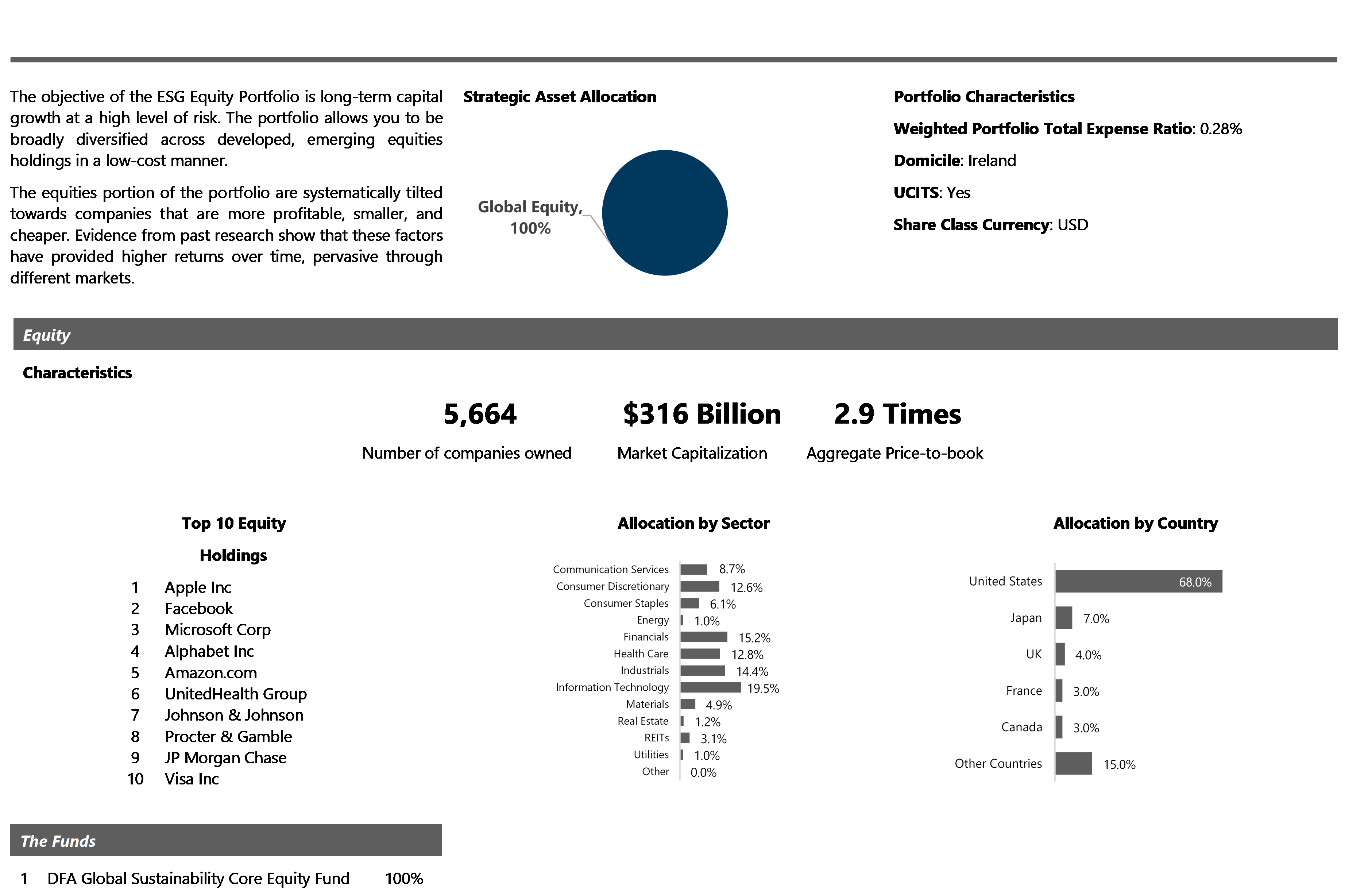 Conclusion – Don't forget to have a wealth plan!
It is likely that the financial markets will be volatile heading into the end of the year. There is always new information to be incorporated into asset prices. If the headlines are fearful, feel free to reach out to us to have a chat. We can help to review, if not construct, your wealth plan and investment portfolios. Our tilts to value and small stocks will benefit us in an environment with higher yields, so while the broad indices might fall (as higher yields are not as good for growth stocks), our portfolios will hold up better.
Thank you for your continued trust and support.
Warmest Regards,
Investment Team
---
We do not charge a fee at the first consultation meeting. If you would like an honest second opinion on your current estate plan, investment portfolio, financial and/or retirement plan, make an appointment with us today.