December capped a fantastic run for stocks in 2021, with some major gains for developed world stocks and a recovery for emerging markets. Bonds unfortunately fell again as fixed income markets adjust to the rates and inflation outlook for 2022. From the data below, we can see that global stocks returned 4.2% in December, coming off a more tepid November where concerns over the Fed interest rate policy paused the year-long rally.
Exhibit 1: Performance of Major Indices in Dec 2021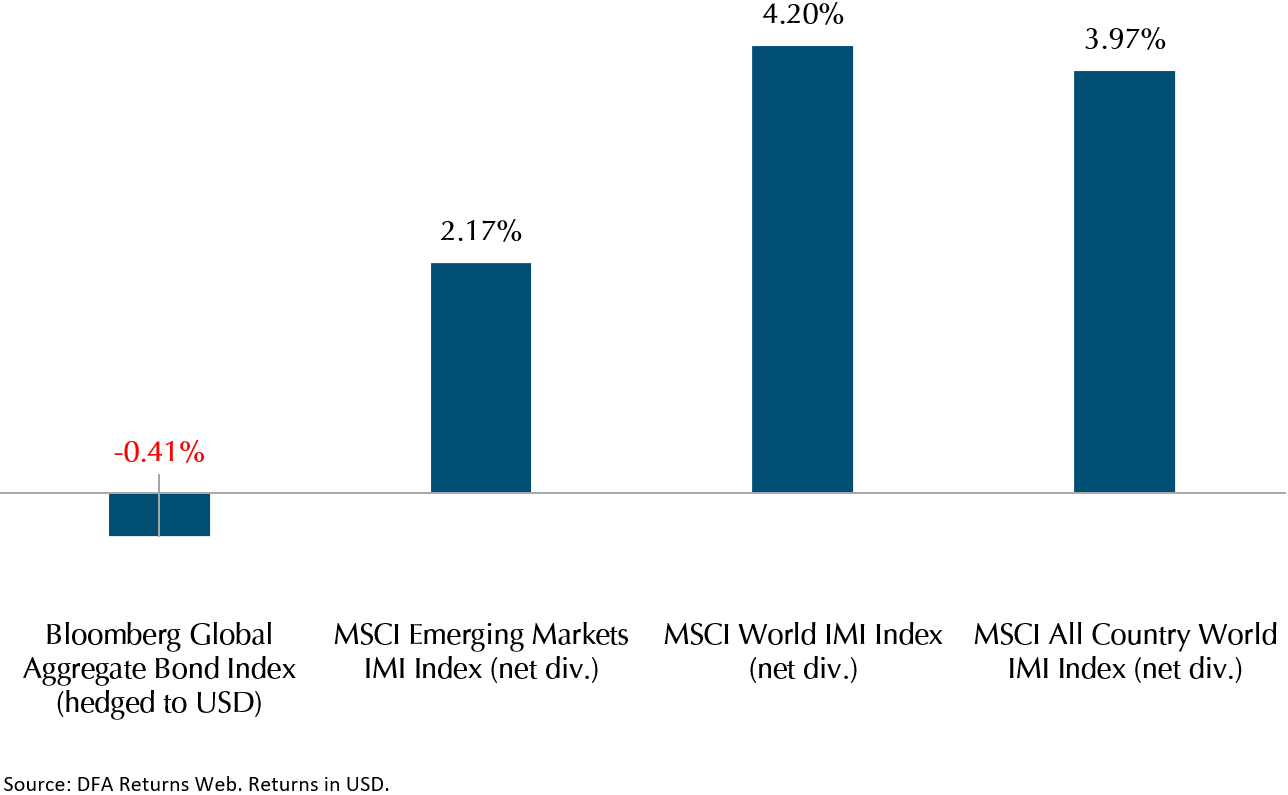 Looking back further, it was not just a great December, but also a fantastic 2021, as global stocks once again delivered double digit returns, continuing to reward long-term investors that have stuck with stocks for the past half a decade. Emerging market stocks did not fare as well in 2021, as various challenges such as rising interest rates, the changing business environment in China and a slower reopening of economies due to Covid-19 led to negative performance for EM stocks over the year. Bonds also had a tough time in 2021 as the spectre of higher inflation pushed yields up, resulting in bonds registering their first negative return since 2013.
Exhibit 2: Performance of Major Indices in 2021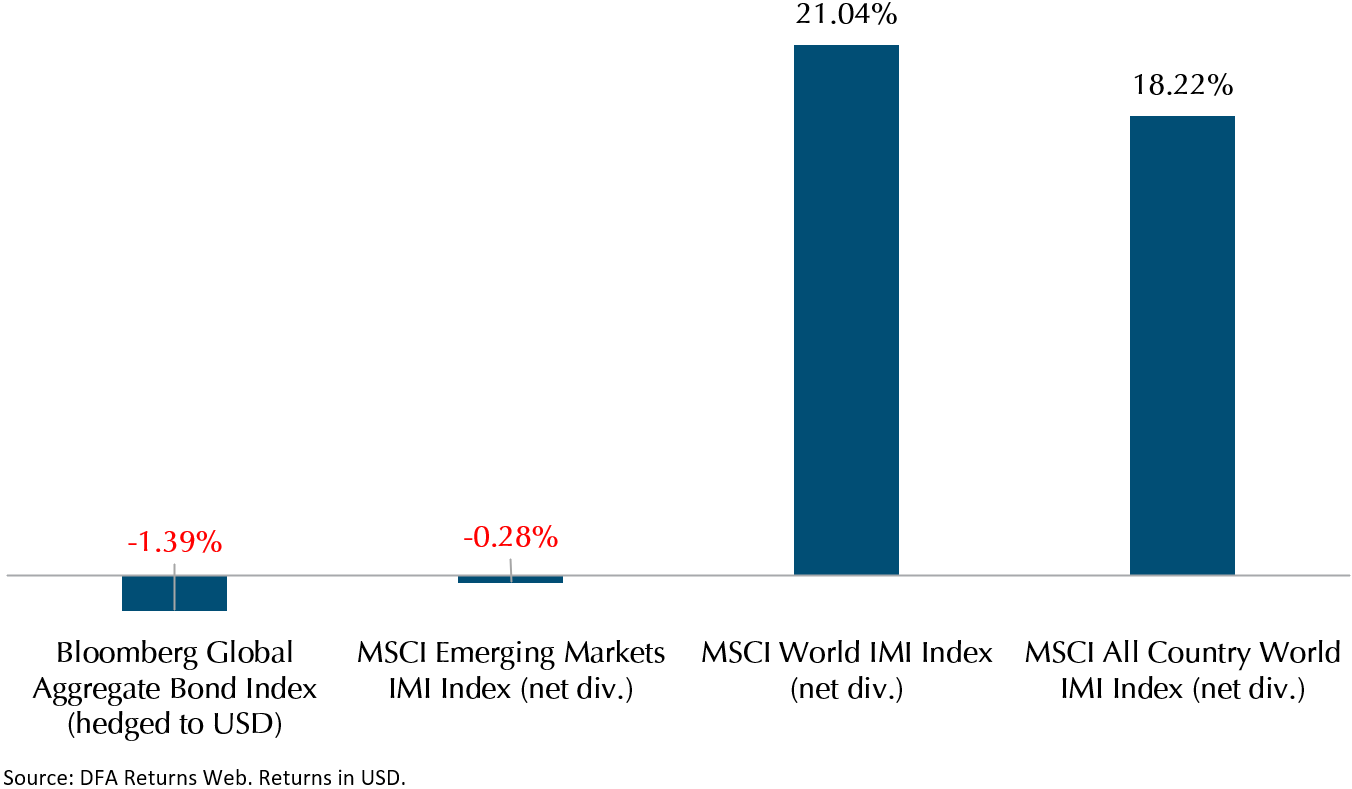 Providend portfolio performance
Tracking the performance of a diversified index allows us to get a good representation of the performance of an asset class, but as investors, we do not invest in indices. We invest in funds that attempt to track an index, or in funds that attempt to capture the returns of an asset class. Implementation is an important facet of investing, and how our portfolios perform reflects on the implementation of our investment process at Providend.
The next few charts show the performance of our Index Plus portfolios for 2021, the past 3 years ending Dec 31, 2021, and the past 5 years ending Dec 31, 2021. These are the portfolios that you are likely to be invested in after going through the wealth planning process with our advisers. For the 3- and 5-year time periods, the returns reported are annualised. These are returns for our model allocation, which does not factor in any form of RSP or DCA. Do note that your actual experience is likely to be different, unless you invested a lump sum on Jan 1, 2017, Jan 1, 2019, or Jan 1, 2021, respectively. However, the performance of the models gives you an idea on how Providend's investment implementation has fared for the past half a decade.
Looking at the data, you can see that we have been able to deliver a 5-year annualised double digit equity return of 12.5% which is far higher than the estimate we use for our wealth plan. For our clients that joined our journey in 2016 and after, we are excited that there has been good progress made towards achieving their wealth goals.
Exhibit 3: Performance of Providend Index Plus Portfolios in 2021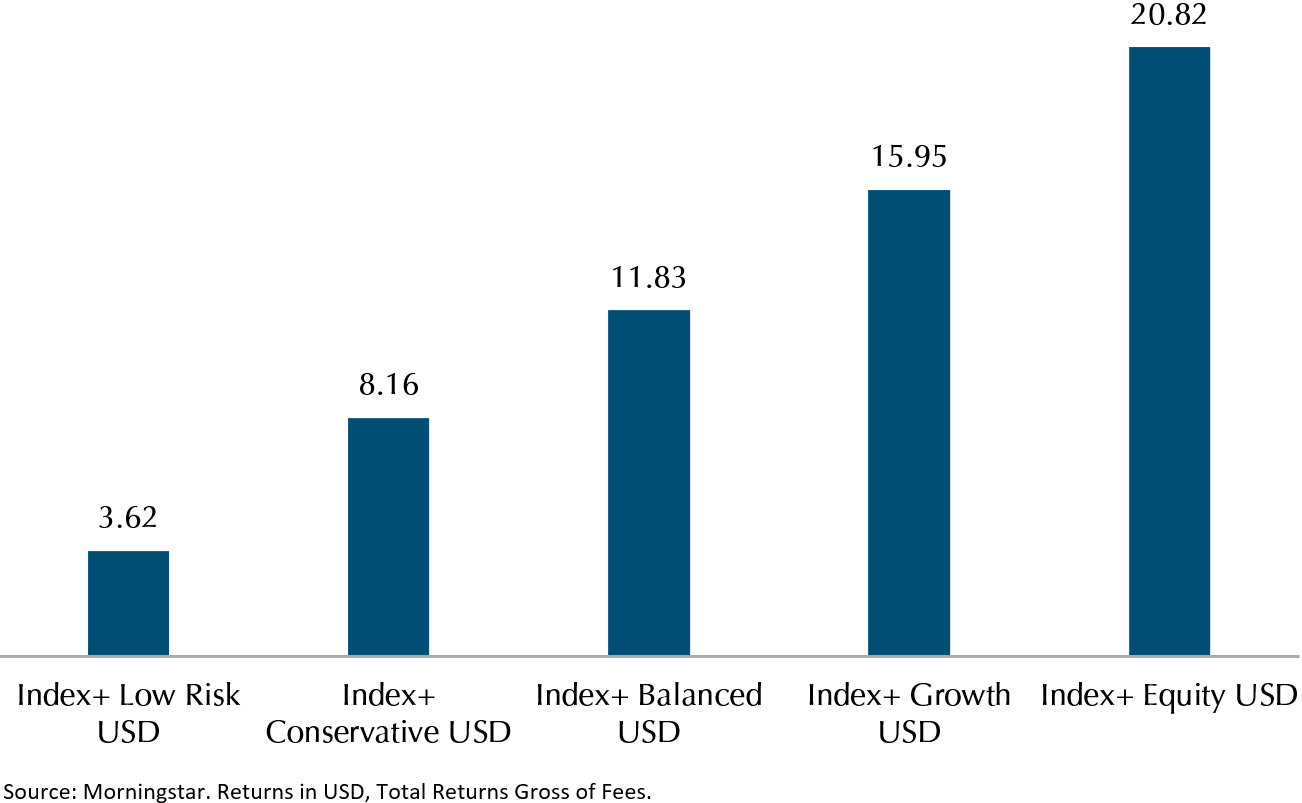 Exhibit 4: 3-Year Annualised Returns of Providend Index Plus Portfolios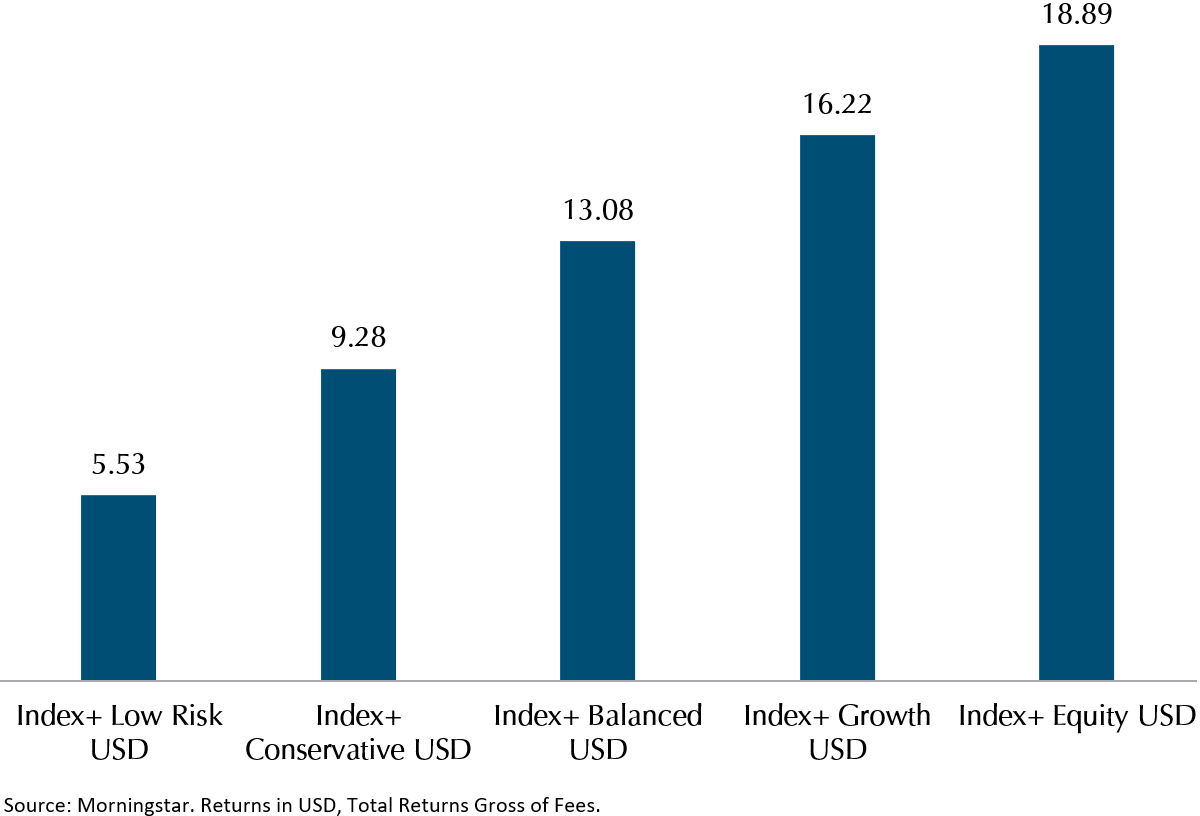 Exhibit 5: 5-Year Annualised Returns of Providend Index Plus Portfolios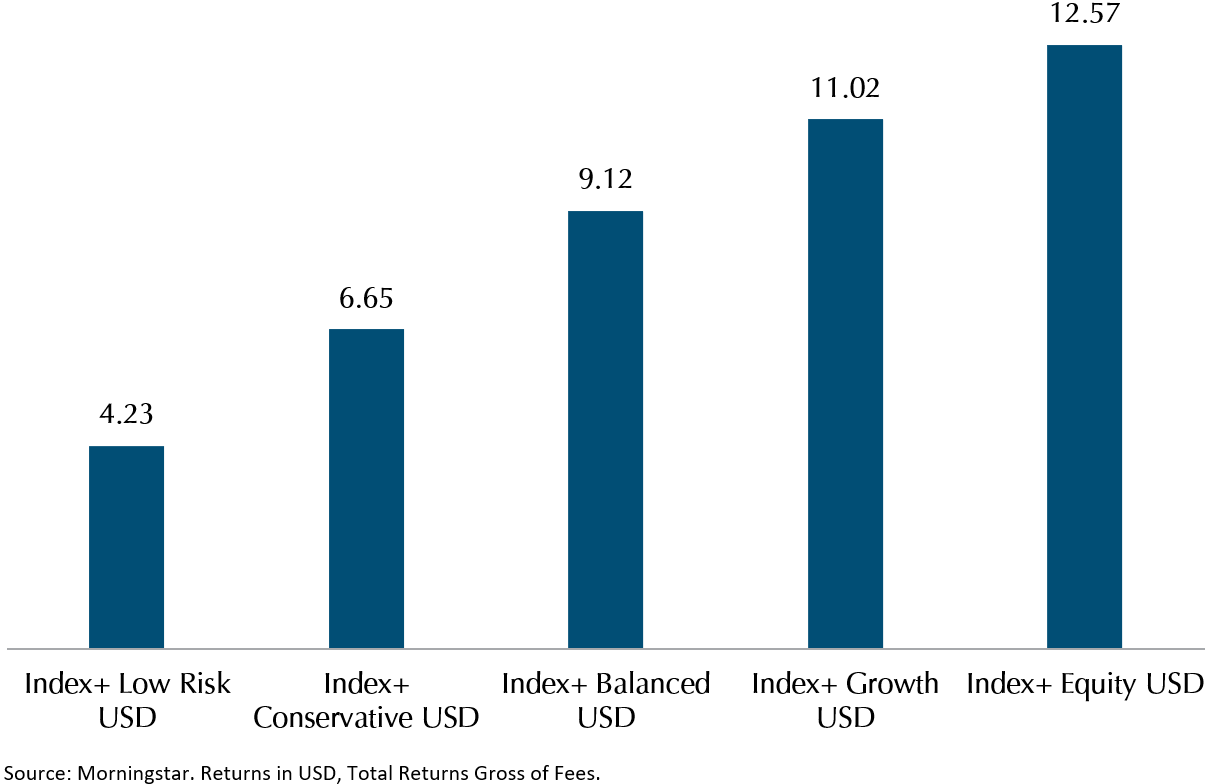 A successful implementation
What we can see from the results are that we have had a successful implementation of our investment philosophy, with the portfolios doing a good job of capturing the market returns for our clients. Our tilts to smaller companies and value stocks unfortunately have not led to outperformance yet, neither have they have overly detracted from the performance of the portfolios.
Exceptional times don't last
While we are as excited as our clients to see how well the portfolios have done, we are also keen to remind our clients that stock returns are very volatile. If we have a period where returns are 12% every year, when the average return is below that at for example 7%, we must expect a period that returns will be lower than 7% for the average to eventually be around 7%. Do note that we do not mean returns have to be negative, but we have to expect that they will be lower at some point to bring the return closer to the average.
At Providend, we take pride in giving honest advice, and that means we are not letting ourselves get carried away by the portfolio performance of the last 5 years. Instead, we recognise that it is an exceptional period (that we hope will last longer!) but we still plan based on the averages for our clients as that is a far more realistic expectation to have.
What to expect in 2022
Forecasting is an impossible task, as we do not know the future with 100% accuracy. We can however look at some of the themes that might play out in 2022, and offer our thoughts on where things might head. (Do remember that we do not expect to get any of it right. That's why we are in diversified global portfolios).
The S&P 500 might take a breather – US stocks have done amazingly well for the past decade. So much so that valuations are very stretched. Looking at some data from JP Morgan AM in Exhibit 6, we can see that the S&P 500 valuations are way above the historical averages.
Exhibit 6: S&P 500 Valuation Measures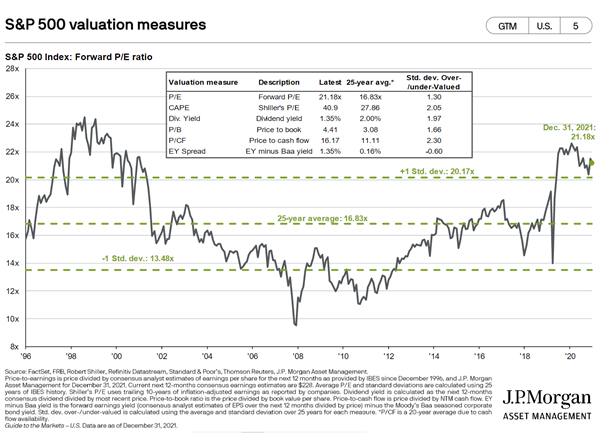 While that might seem to be cause for concern, when you look deeper into the data (Exhibit 7), you can see that the over-valuation is concentrated in the top 10 firms, while the rest of the S&P 500 is still below the historical average.
This means that sticking to a diversified portfolio, that regularly rebalances towards higher expected return stocks in the form of value and small companies will be one of the ways to hedge against the risk that the top 10 S&P 500 companies no longer deliver the exceptional returns that they have in the past decade. While parts of the S&P 500 look richly valued, our portfolios are not as invested in those parts, and are instead in the areas of the stock market with better value.
Exhibit 7: S&P 500 Concentration, Valuations and Earnings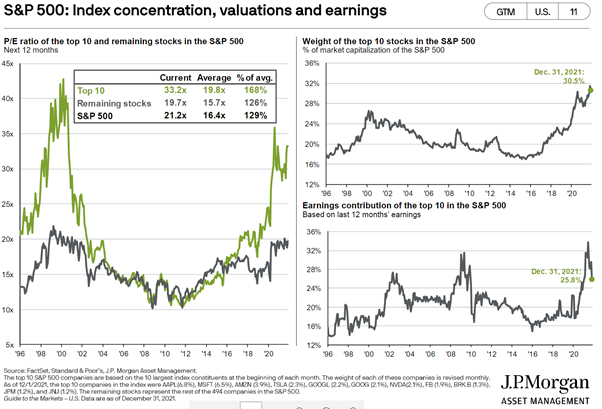 Emerging markets look to bounce back – It has been a difficult time for EM investors with 2021, as the slower pace of economic reopening due to Covid-19, along with the regulatory changes in China for businesses like education and tech, not to mention the ongoing trade tensions between the US and China, have hit returns for EM stocks. The good news is that typically after a bad period for EM stocks, there is a strong recovery.
Exhibit 8: MSCI Emerging Markets IMI Annual Returns Since 2008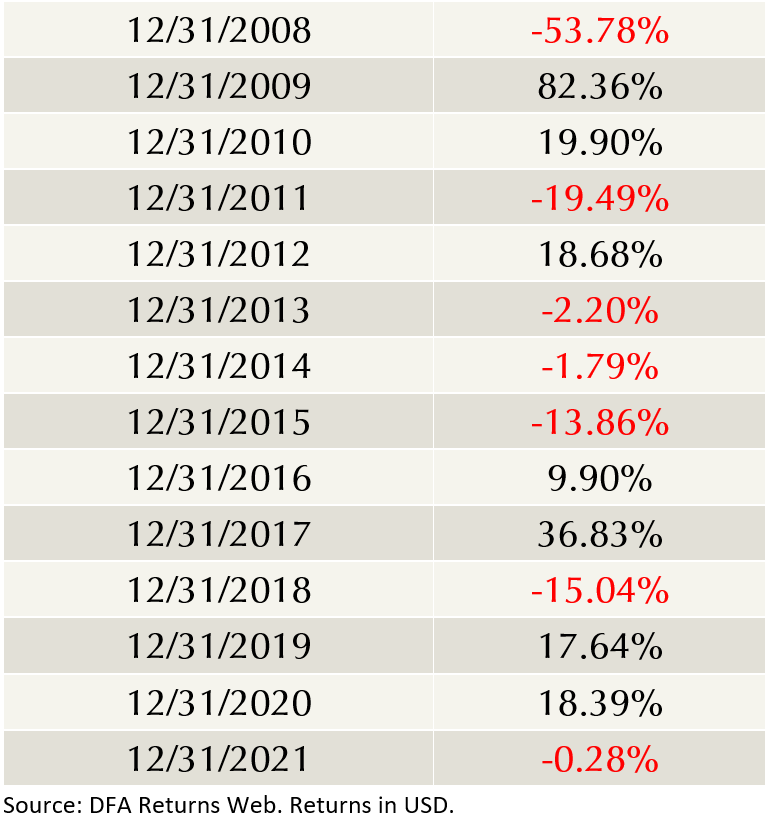 Emerging markets have had periods of negative performance in the past decade, but each time they have bounced back. As the world continues to work its way through the pandemic, we expect that emerging markets will come roaring back to deliver the punchy returns that they are known for.
Inflation concerns will determine the course of markets in 2022 – Inflation (or the lack of it) will remain a topic of concern in 2022. As supply chains continue to face disruption from the pandemic, we will continue to see inflation in goods and services in 2022. Commodity prices are also going to be impacted as reduced investment in fossil fuels might drive prices of oil, gas and coal higher as the world transitions towards renewable energy sources. Having unleashed monetary easing and low interest rates to save the US and global economy during the pandemic, 2022 is likely to see the Fed talk and raise rates higher. The tough part will be striking a balance between raising rates high enough to combat inflation while not derailing the market rally.
How is Providend managing the portfolios in 2022?
Providend is not changing how the portfolios are managed. The portfolios, in particular the Index Plus ones, are constantly rebalanced away from growth stocks and into value stocks. This helps the portfolio reduce exposure to the top 10 S&P 500 stocks that are at above average valuation, and allocate exposure to other stocks that are not at such stretched valuations. This will mitigate the impact should the S&P 500 rally lose steam in 2022.
The portfolios are also in a good position with regards to inflation and higher rates. As mentioned in previous notes, higher rates are likely to put a damper on growth stocks that depend on future streams of cashflow for their valuations, while it will benefit value stocks that have more of their cashflow in the present. Stocks are also a good hedge against inflation as companies pass the higher costs on to consumers, maintaining their profits and allowing investors to benefit from the inflationary environment.
Lastly, the portfolios are diversified globally. We have developed ex-US stocks, along with an allocation to EM stocks. While these have lagged the US market in recent years, they provide a diversification benefit should investors rotate out of US stocks into other geographies.
Focus on the wealth plan
Providend is not just about investment performance, but it's about using the investment performance to help clients achieve their wealth goals. The start of a new year is always a good time to catch up with your adviser and discuss your goals and plans for the year ahead and how your wealth plan can adjust to meet them. As always, the Providend advisers are there to assist you.
We look forward to the investment journey in 2022 with you, and would like to wish all of you a Happy New Year in 2022.
Warmest Regards,
Investment Team
---
We do not charge a fee at the first consultation meeting. If you would like an honest second opinion on your current estate plan, investment portfolio, financial and/or retirement plan, make an appointment with us today.