7 years ago, my wife braved a 240km charity ride from Malacca to Singapore (Yes, she is the brave and adventurous one!). Of course, being a supportive and responsible partner, I had to go with her. That was how I got hooked on cycling and decided to level up my cycling profile from low-risk park cycling to moderate-to-high risk road cycling.
Over the years, as I train myself to enjoy and excel at this sport, I have applied many investment lessons learnt to my cycling journey. Vice versa, cycling has also given me insights on becoming a better investor. Here are my lessons:
1. Balancing
As a start, you cannot ride a bike without knowing how to balance. Good balancing skills let you ride safely and confidently, whether it is in manoeuvring a turn or lifting a hand to signal your intention.
When it comes to investment, without asset allocation and diversification, you are really speculating more than investing. It is unlikely that you will be confident of your investment outcome. Diversification helps investors to prevent failure due to concentration while not missing out on extraordinary returns from any sectors or securities. On the other hand, asset allocation and constant rebalancing between asset classes ensure that investors stay within their tolerable risk and are able to invest for the long term to achieve high confidence outcome.
2. Understand why you choose to ride
My young niece once asked me: "Uncle, why does an old guy like you still do this crazy thing, wake up so early to risk your life on the road?" Well, while riding is not as risky as most people perceive, it is certainly not as safe as a walk in the park. As the saying goes, "4 wheels move the body and 2 wheels move the soul", to me, cycling is a rather magical activity that liberates the soul. It brings you to corners you have never imagined visiting and allows you see the world around you at just the right pace.
Although the purpose of investment is to make good returns, understanding the reasons why you need to invest and the willingness to take the risk of investing are key factors for a successful outcome and an enjoyable journey.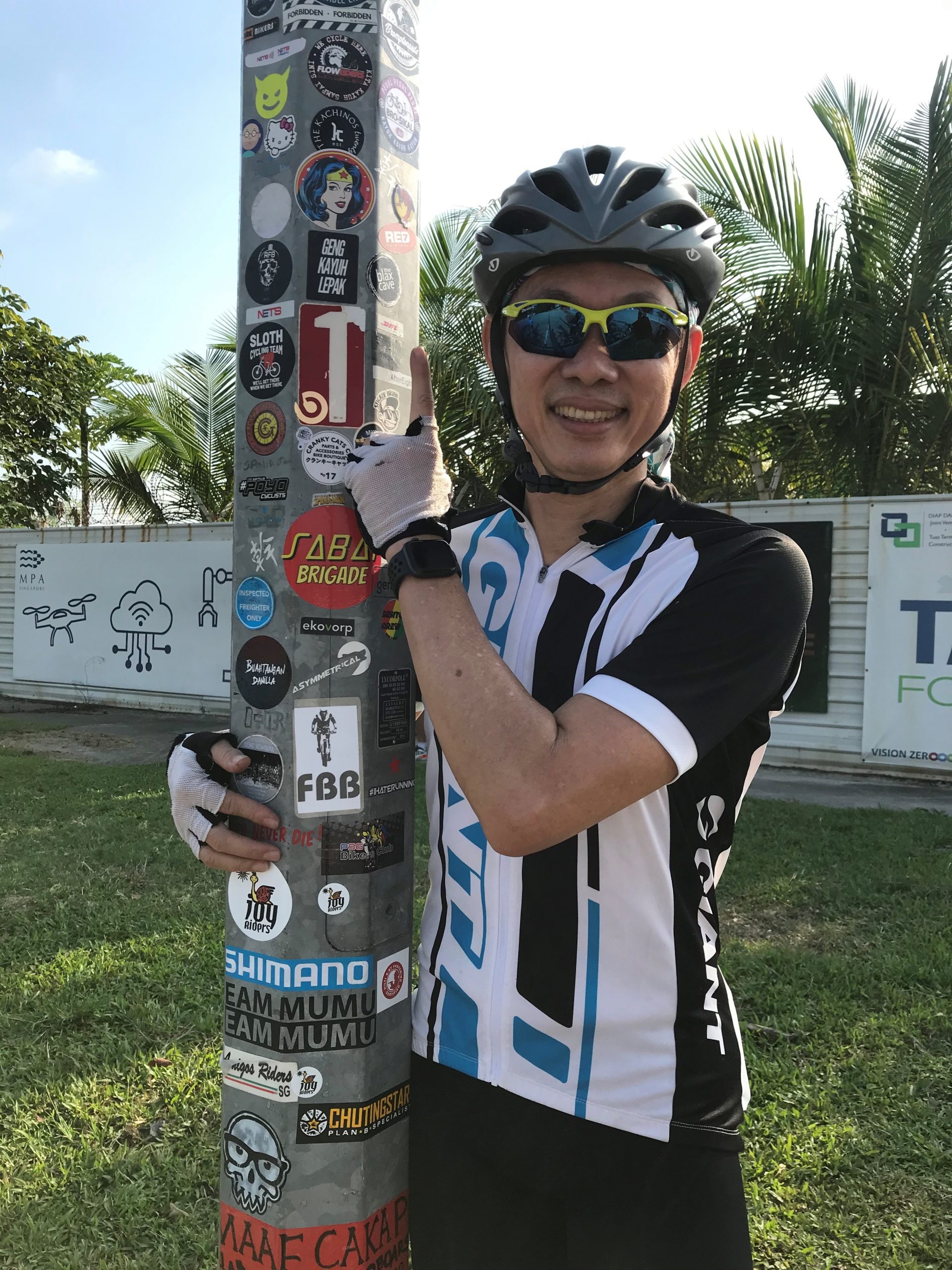 At the famous LP1
3. Plan your route
Before each ride, we plan our route meticulously. We align our route to our training goals – the mileage we want to cover, where are the meet up points, pit stops for food and water, as well as our average speed in order to get home in time to a smiling spouse.
Likewise, we set up our investment plan by aligning them to our life goals. This helps us measure our progress, take stock and make necessary changes in a timely manner for any unforeseen circumstances. In the end, setting goals ensure that we stick to our plan and overcome obstacles and distractions along the way to achieve what we have set out to accomplish. One very important point to mention here is, please ensure that you set goals jointly or in consultation with your spouse or partner.
4. Bike fit
Buying a bike that fits your size and getting a good bike fit are critically important for cyclists. This not only ensures you have a comfortable journey but more importantly, prevents you from any potential injuries. Other finer details such as choosing a good saddle, appropriate attire and cycling shoes are just as important in ensuring your comfort and safety.
Similarly, investing in the right portfolio allows you to sleep well at night and have a more pleasant journey towards achieving your goals. Investing in a portfolio with risks beyond what you can stomach may cause panic and cause you to bail out at the worst possible time.
5. Prepare for setbacks
Not every ride is smooth, oftentimes you may get a tyre puncture, get caught in a downpour, or even encounter a slipup and fall. We learn to handle these setbacks in stride and always come back to ride another day.
Although the stock market trends upwards in the long term but corrections, on average, happen at least once every year. As investors, we need to have the right mindset – prepare to live with the short-term disappointments as well as have trust in the evidence to stay optimistic for the long run.
6. Reduce the drag
Most cyclists inevitably get sucked into the game of endless upgrades. There will always be another bike that you want or a component to replace to go faster. In gist, we look at our instruments to help us reduce our drag. From reducing weight, lowering rolling resistance, improving power transfer to more efficient gear switching, we hope to go faster per kilowatt of power output. When cycling with a team, we learn how to draft as stronger cyclists often head to the front and shield others at the back. Studies have shown that drafting behind another cyclist can save as much as 40% of your effort to achieve the same speed.
In investing, the most impactful upgrade to your portfolio is to use efficient low-cost instruments such as indexes, evidence-based funds or ETFs. Using passively managed index funds is similar to drafting behind someone in cycling. The millions of active market participants, often the very smart ones, are competing against one another to get you the right price for the securities. They are like the front cyclists who do all the heavy lifting for you.
A common mistake many investors make is to use low-cost passively managed ETFs to actively manage their portfolio. This is as if at one moment, you are enjoying the draft behind and the next moment, you feel the need to get to the front.
7. Don't look back
In cycling, the habit of looking back (other than filtering for a turn) is dangerous. You could trip over a pothole, run into a stationary vehicle or not being able to stop in time at a red light, all of which are life threatening.
In investing, basing on past performances to decide where to invest your money is equally dangerous. According to data compiled by S&P Dow Jones Indices, out of the 567 top 25% active funds in US in 2015, only 5 remain in the top quarter in 2019, just after 5 years.
On 1st January 2014, if you chose to invest your $1M based on past performances, you would have invested into the Energy sector. Right now, while I write this article, your $1M would have ended at $537,000 (-46.3%*). However, should you choose to put your money in the worst performing sector then, which is the Technology sector, you would have $3.993M today, a whopping 399.3%** return in the last 7.4 years.
8. Don't ride alone
It is much safer to ride in a pair or a group. Besides looking out and supporting one another, it is often more visible to other road users as well. Of course, the friendship and fellowship make the journey more enjoyable and special.
All investors are encouraged to work with a right adviser. However, should you choose to do it on your own, it is important to find either a like-minded buddy or join an investment community. For example, Warren Buffet's investment buddy is Charlie Munger. Working with someone enables you to bounce ideas off each other, share learnings and act as a check-and-balance to prevent you from making costly mistakes. I am sure it will also make your investment journey much more enjoyable and sustainable.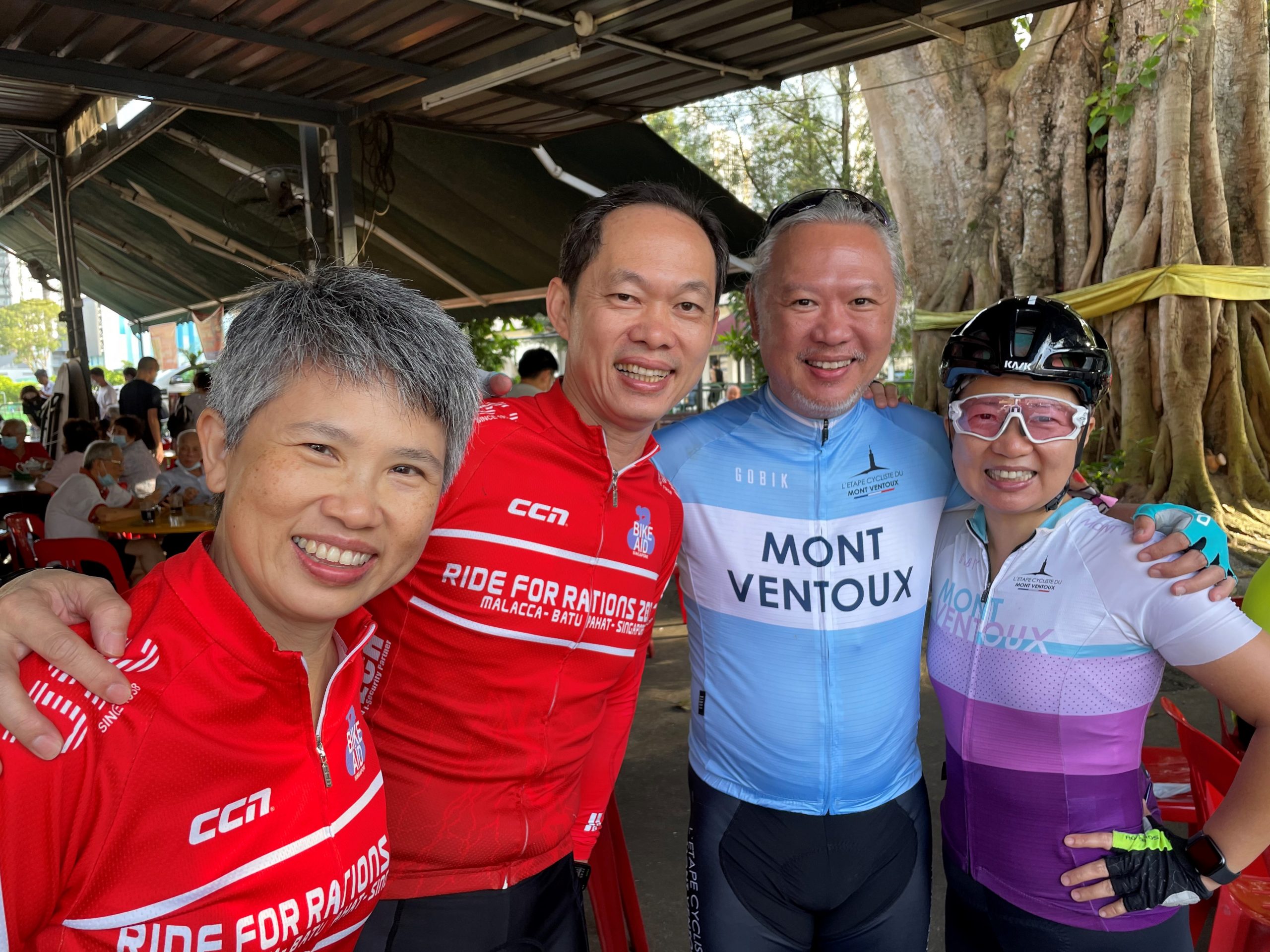 Met Mr & Mrs Suwandi at a popular cyclist's pit stop.
Mr & Mrs Suwandi have been clients of Providend since our beginning.
9. Incline and decline
Back when I was a newbie in cycling, I loathed the slopes. Grinding up slopes are painful and at times scary even for seasoned cyclists. I can still vividly remember suffering up a 10-to-15-degree endless slope during my cycling trip in Taiwan. However, it is also what trained me to become a fitter and better cyclist.
Grinding through a bear market is like climbing, it is painful and scary, we constantly wonder how much lower the markets will go. Despite this fact, it is the investments we made during a bear market that ultimately reap us the best rewards.
On the other hand, effortlessly zooming downhill is every cyclist's moment – the adrenaline, the wind on the face and the sense of reward from finishing a hard climb. Unfortunately, it is also the downhill that kills us. Going beyond speeds you can handle, taking your eyes off the road, not keeping sufficient safety distance, all these can easily happen when you feel good and are on top of the world.
Comparably, bull markets are the best moments for every investor. We feel good and pumped up and are falsely reassured that all of our predictions are correct. We think that we finally got it and are absolutely certain about our decisions. But sadly, it is also the bull markets that destroy the most investors. We get carried away, become overconfident and take on risks that are detrimental to our investment outcome.
Just as climbing defines a cyclist, bear markets will define an investor. And just as in cycling, over confidence is never a good thing when it comes to investing.
This is an original article written by Vincent Tey, Head of Advisory Team at Providend, Singapore's First Fee-Only Wealth Advisory Firm.
Note:
*Based on return for Energy Select Sector SPDR® ETF from 1st January 2014 to 23rd April 2021
** Based on return for Technology Select Sector SPDR® ETF from 1st January 2014 to 23rd April 2021
For more related resources, check out:
1. Sailing and Wealth Planning: When It Is Smart to Play It Safe
2. How Providend Helps Affluent Families Have a Good Investment Experience
3. Do Low-Cost Investments Give Investors Higher Returns?
---
We do not charge a fee at the first consultation meeting. If you would like an honest second opinion on your current investment portfolio, financial and/or retirement plan, make an appointment with us today.