I started hiking as a form of exercise about 5 years ago. Hiking allows me to enjoy the morning fresh air, the beauty of nature, and fellowship with friends. As such, I tend to intentionally incorporate scenic hiking trails for all my overseas holidays since then.
In December 2019, I had the opportunity to complete a 6-day hiking trip in Tasmania. It was my last overseas trip before we were all grounded due to the Covid situation. It was an amazing trip, the hike was on a World Heritage-listed Cradle Mountain to Lake St Clair, walking through valley, lakes, and mountains. Mount Ossa (on day 4) standing at 1617m, was the highlight of the hike as it offers fantastic views and a unique experience (by the way, Bukit Timah Hill is 164m).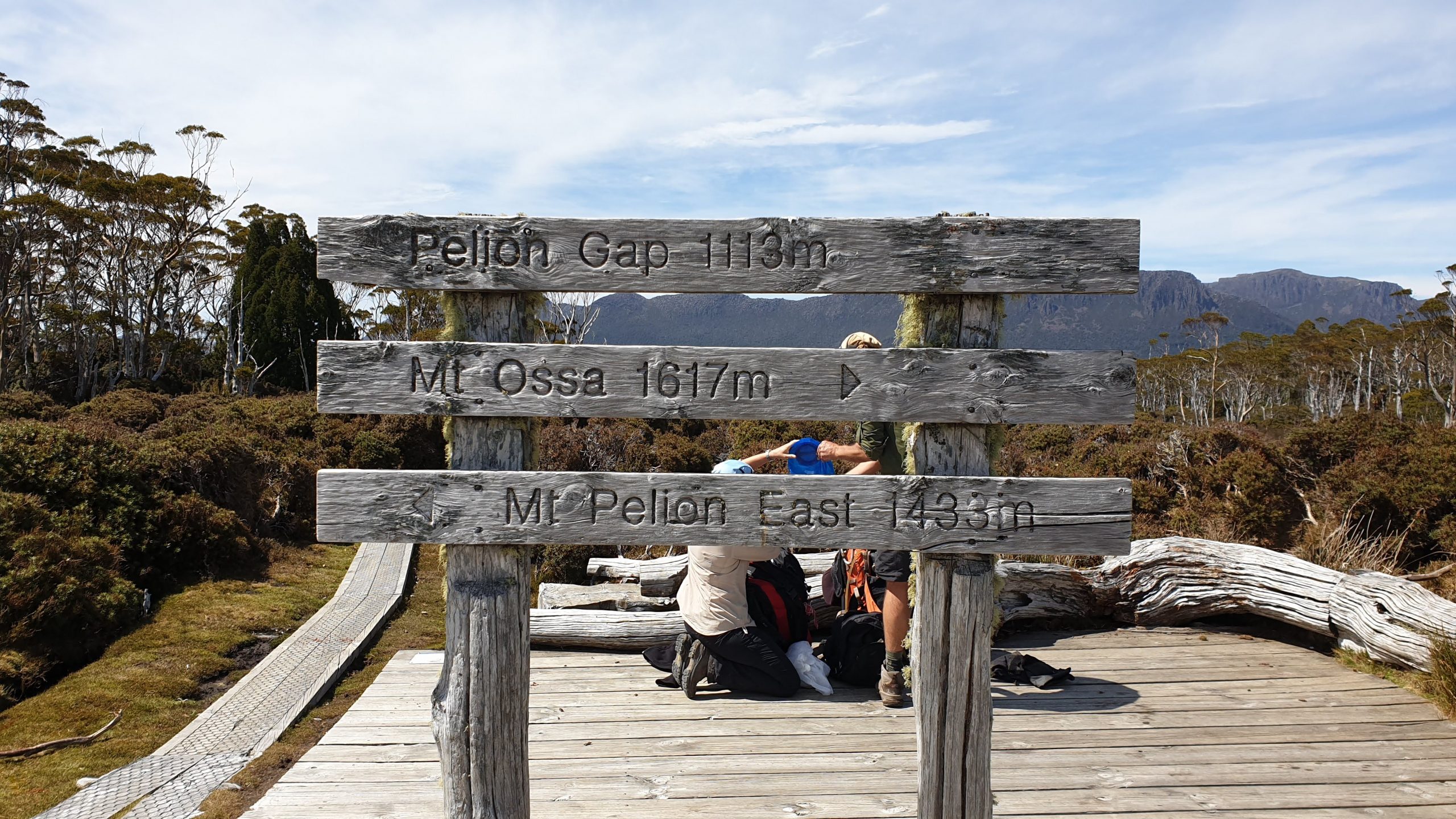 At the base of Mount Ossa.
Climbing Mount Ossa was interesting as it was still covered in snow in the middle of summer. We experienced both heat and humidity from the rain forest at the mountain base which gradually turned into a snowy playground at the peak. During certain parts of the climb, we were on all fours as the steep rocky surface was something we have never experienced in Singapore. There were also parts of the climb that we did not even know where to place our legs.
Looking back at the trip, some parallels came to mind between hiking and wealth management. Thinking about the analogy, it was surprising how many parallels there are in the two seemingly unrelated events.
Preparation
The easiest part of the trip was booking it! The actual planning work started 6 months before. After deciding on the trip, we did some research to look at trail websites, blogs, guidebooks, and park websites and pick a trail to hike. Questions to ask include how hard is it? How far is it? How much elevation gain is there? Ensure you choose a hike that is within the abilities of you and your group.
In general, hiking in a group is preferred. It is more fun, but safety is the real reason it is better to hike with friends. For this trip, we decided to engage professional help as we were not familiar with the trails and did not want to "rough it out". In a way, it was more like "glamping" as we just had to do the walking. The guides took the lead and provided food. We also got hot showers, sumptuous meals, freshly baked bread, Tasmanian wine, and a comfortable bed at the end of the day.
Similarly, wealth management may not always be straightforward, and the journey will be a lot smoother with the help of a trusted adviser. You may still need to have the basic knowledge of insurance and investment to appreciate the value of a wealth plan though but partnering with a subject matter expert can help save you a lot of time and effort.
Happy Feet, Happy Hike
The length and speed of the hike are important, but so is the quality of the hike. Sand or tiny rocks can cause irritations on your foot and make it difficult to walk. There is also nothing worse than hiking or walking and getting your socks wet. Not only is it uncomfortable and cold, but it can lead to blisters, and you do not want that.
A simple solution is to use gaiters, a fabric guard that covers the gap between your trousers and your walking boots. Aside from protection against moisture, gaiters can also stop mud and debris, such as stones, thorns, and branches from entering your boot. Take care of your feet – happy feet, happy hike. A spare pair of socks is also awesome. You can change your socks if they get wet from rain or sweat, which helps to prevent blisters too.
In wealth management, you will need to have different types of tools for risk mitigation. Most people deal with risk in five ways — they avoid it, retain it, transfer it, share it, or reduce it. In this case, the risk management strategy is to prevent it. For example, health insurance will ensure that a costly hospital bill will not derail your accumulation plan. Having an emergency fund or sinking fund will prevent you from drawing down from your investment at the wrong market timing.
Take a Break but Don't Break From the Trail
Do not get so focused on the path that you forget to look up and enjoy the scenery, vegetation, and view. There are much interesting flora and fauna if you pay attention to the environment. Taking shortcuts may not be safe for you or the environment. You may not always know the reasons why the trail may be the best way to travel. However, if you take a shortcut, you may miss a beautiful view, have a more difficult climb, or encounter a dangerous hazard.
The journey for wealth management is like a hike — you may not always be able to commit your maximum effort ceaselessly towards your accumulation goal. Sometimes, you need to take a break. For most people, this 'break' could be a family vacation or giving yourself some 'me-time' to recharge. Life has to be lived both in the moment (rest) and longer-term (retirement). For everything, there is a season.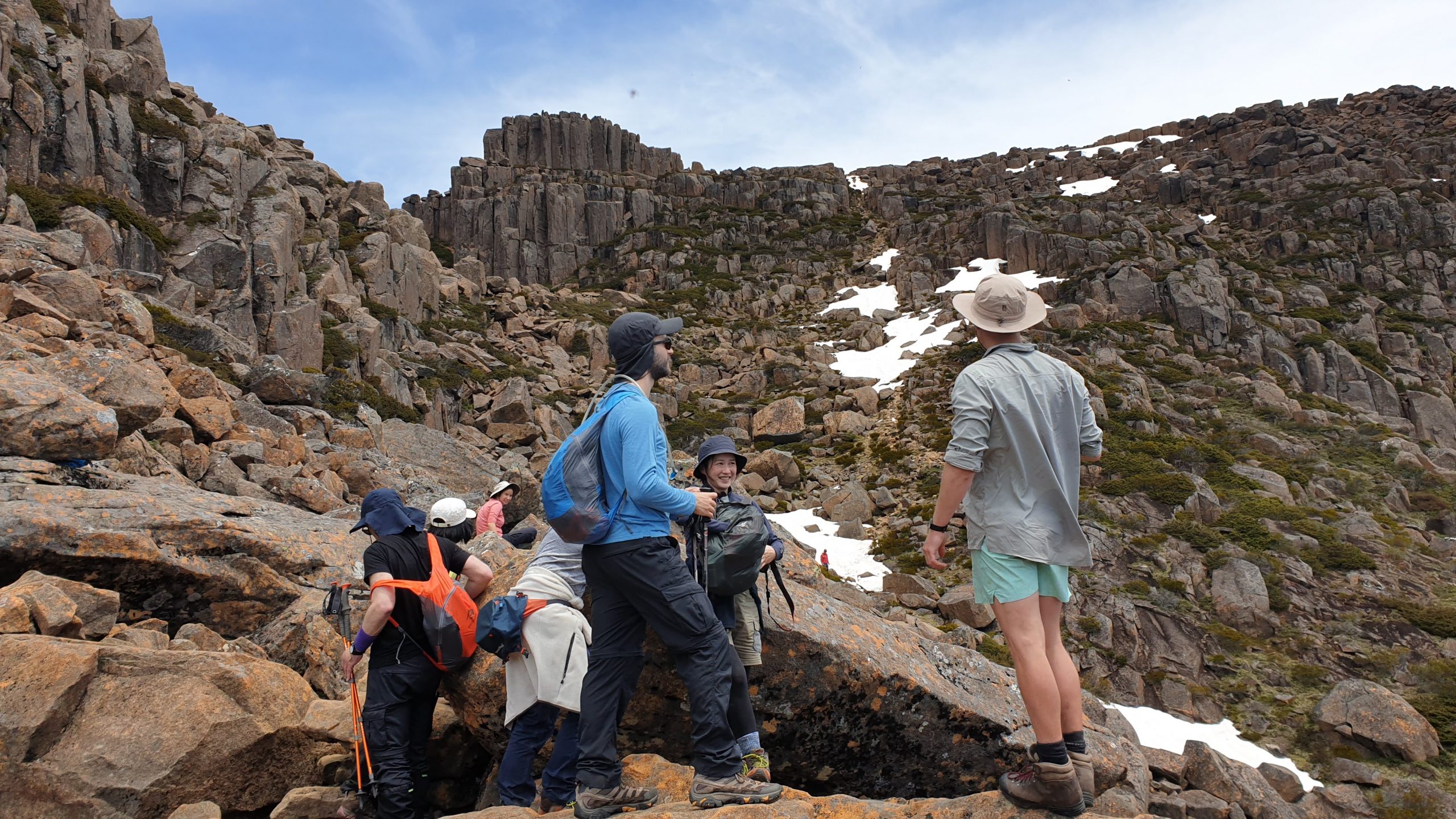 Taking a break before the final push.
It is easy to tell from the picture who is the guide.
Make Sure You Have Enough Time and Resources
Do not rush or try to hike at night, make sure you have enough time to complete your hike. Check how long it usually takes people to complete the hike, then add in a bit more time as a buffer. Check sunset timing, you do not want to be caught out after dark. Allow one hour for every 5km forward, plus an additional hour for every 600m of ascent. Get the weather forecasts and dress appropriately for the conditions. If the forecast calls for cold or wet weather, have a lightweight rain jacket and a pair of waterproof breathable rain pants. Other gears to consider include headlamp, power bank, warm clothing (depending on the climate), map, first aid kit, sun protection, swiss army knife, and mobile phone.
In wealth management, there are also many tools involved. From investment asset allocation to understanding how different insurance products serve different purposes, we need to use the right tools for our journey. CPF Life may generate a lifelong income stream, but you need an investment portfolio to keep up with inflation. The longer the time horizon, the longer the power of compounding can work to your advantage. This way, you do not have to take excessive risks due to the need to get a higher return.
Nutrition and Hydration
Hiking is hard work, so you will need to bring some water and food on most hikes. You need to replenish and nourish yourself along the way. Running out of water or feeling hungry during a hike is an unpleasant experience. Dehydration is no joke. In general, 2L of water is about right for an easy day hike. 3 to 4L is needed if it is a strenuous hike. For extra fuel, I usually bring along a couple of extra energy bars or gels, just in case. We need to provide our bodies with the necessary fuel to keep us moving up the trail.
Human capital is the most important resource in our accumulation journey. Our ability to earn an income depends on our experience, skills, education, training, professional network, and intelligence, etc. We need to 'feed' ourselves to stay relevant and productive in the current job market. This is one risk that we cannot outsource.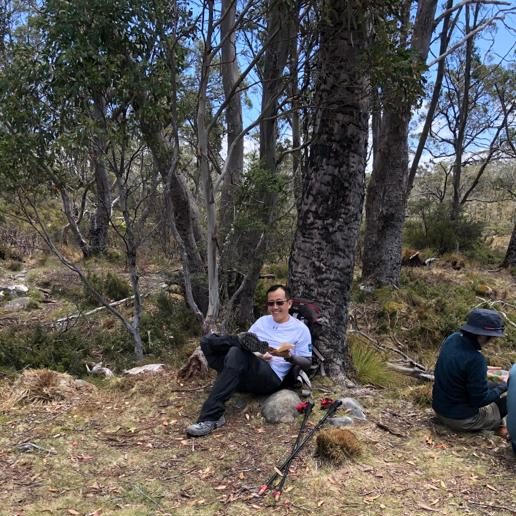 Refueling, before the second half.
It Can Get Uncomfortable
By 20km or so, the knees feel it, the feet feel it, and the back feels the weight of the pack. For guys who have done a 24km route march in BMT, you will know what I mean. For this hike, the feeling when I removed the backpack on the 1st day compared to the 5th day was very different. It was such a relief when I got the 12kg bag off my back at the end of the day.
In wealth management, sometimes it can hurt as well. You may intentionally make savings decisions that delay gratification. There will be times that you want to buy something but decide against it. Balancing the long-term priority of retirement savings against the short-term goal of living can sometimes be uncomfortable. With a little sacrifice and adequate planning, we can successfully reach our destination.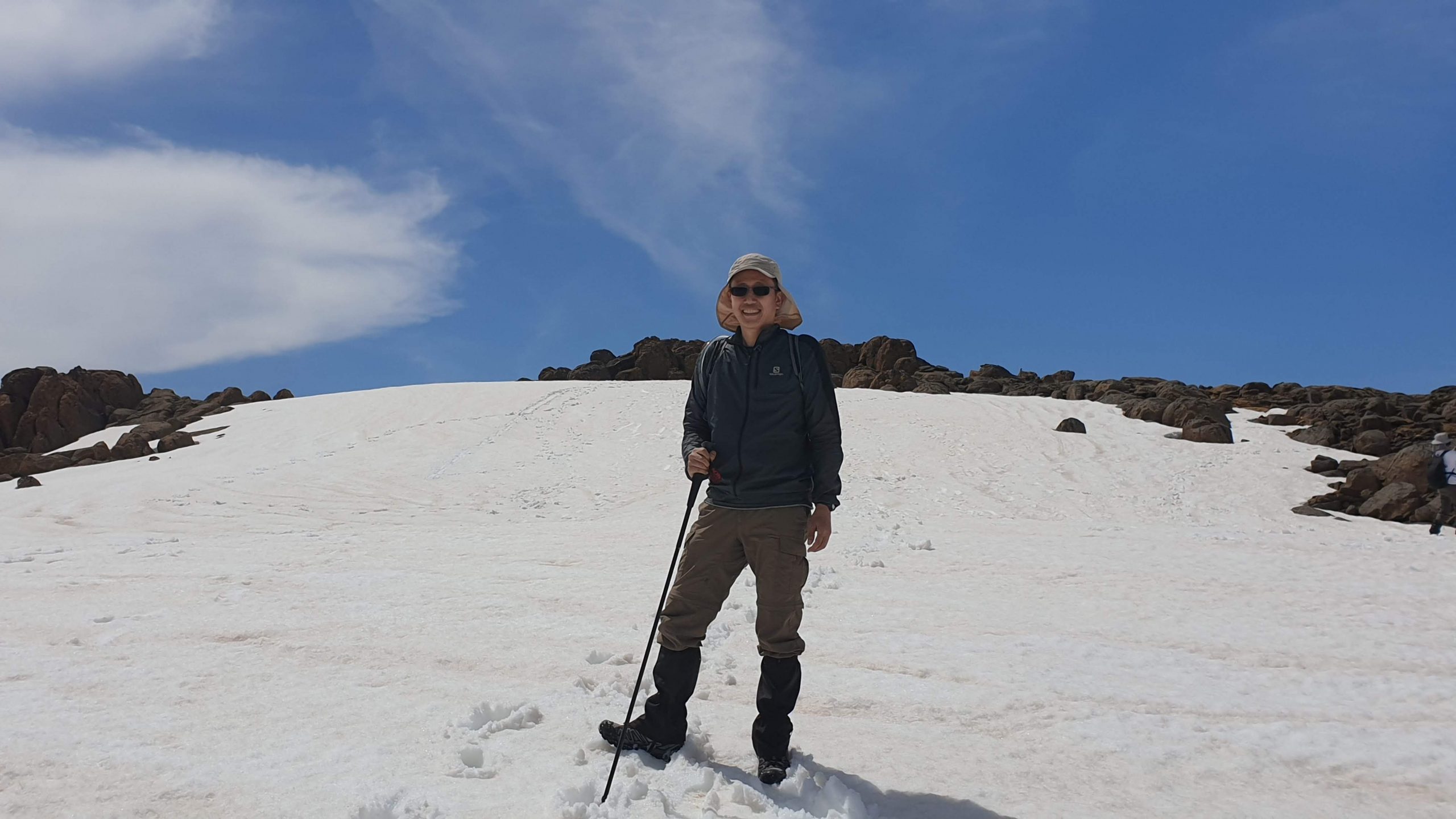 Coming down on this part of the mountain was really fun!
There Is More to the Hike
After 6 days of hiking, we reached Lake St Clair and took a spectacular 17km cruise back to Cynthia Bay. Although we reached the end of the trail – our final destination, it was not the end of the trip. We got in the van, returned the gears, and checked in the B&B. The next morning, we woke up, picked up the car, and began our wonderful 5-day road trip.
In wealth management, we must remember that achieving financial independence is not the end. It is a new beginning. Enjoy the process. Rest along the way, endure the occasional discomfort. Find your purpose and pursue your passion. Educate yourself on the tools available, with adequate preparation, you will have an amazing journey.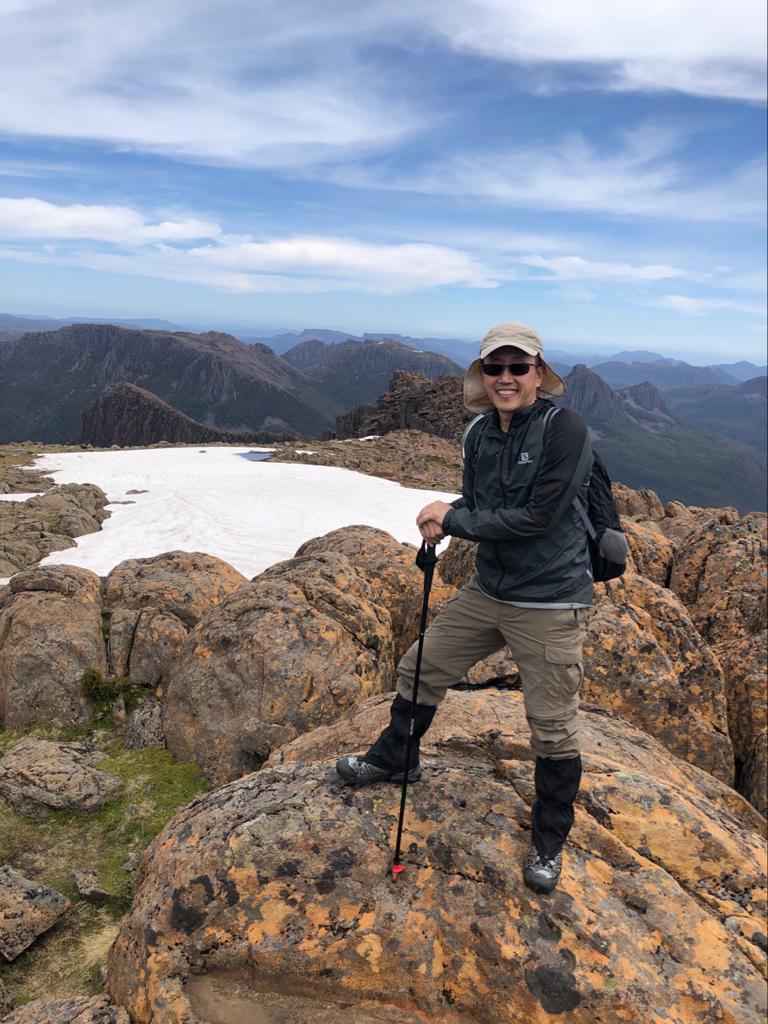 At the peak.
This is an original article written by Lee Chee Kian, Senior Client Adviser of Providend, Singapore's First Fee-Only Wealth Advisory Firm.
For more related resources, check out:
1. RetireWell Part 11: Retirement – It's About the Kind of Life You Want to Lead
2. My Reflection on the True Value of Estate & Legacy Planning
3. The Purpose of CPF
---
We do not charge a fee at the first consultation meeting. If you would like an honest second opinion on your current estate plan, investment portfolio, financial and/or retirement plan, make an appointment with us today.