While there are 2 phases in retirement planning: the accumulation phase and withdrawal phase, in the course of our work, we observed that a lot more emphasis has been placed on the former although it is the latter that is more complex and requires more attention.
Retirement planning during the withdrawal phase is more complex because retirees face the following risks in retirement:
Longevity risk – the risk of money running out before you do
Inflation risk – the risk of decreasing purchasing power
Market risk – the risk of not having your money when you need it due to market volatility
Withdrawal risk – the risk of overspending in your retirement years
To make matters worse, with a likely low return environment going forward, retirees face more challenges and would need meticulous planning to ensure that they have sufficient income in their golden years. In this article, we show how retirees can do that.
David Tan (Aged 59)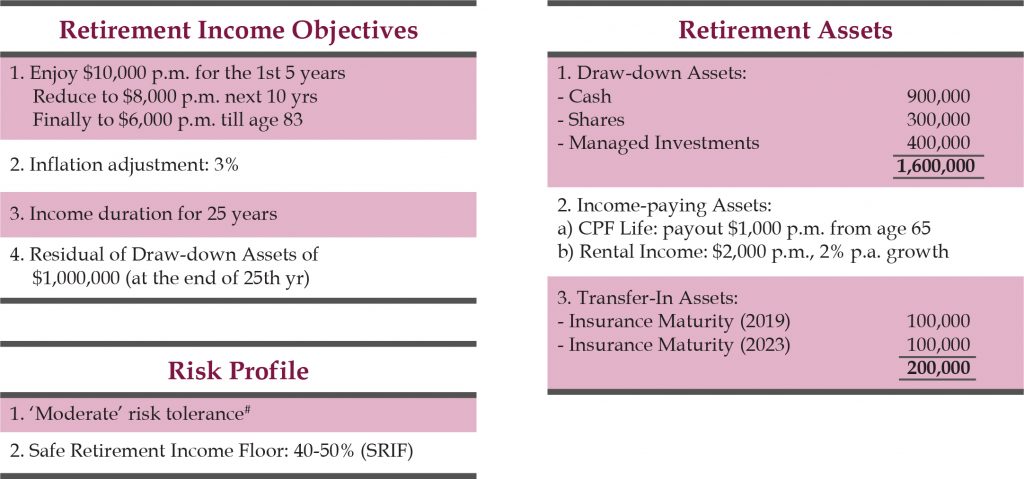 #A retiree risk profile is measured by his safe retirement income floor (SRIF) requirement. A SRIF of 50% means on average, a retiree requires 50% of his income requirement to be certain. The higher the SRIF, the more conservative the retiree is.
Based on what David wants, we use our proprietary retirement planning tool that we developed called RetireWell to allocate $1.479 million of his draw-down assets into the various buckets shown in table 1.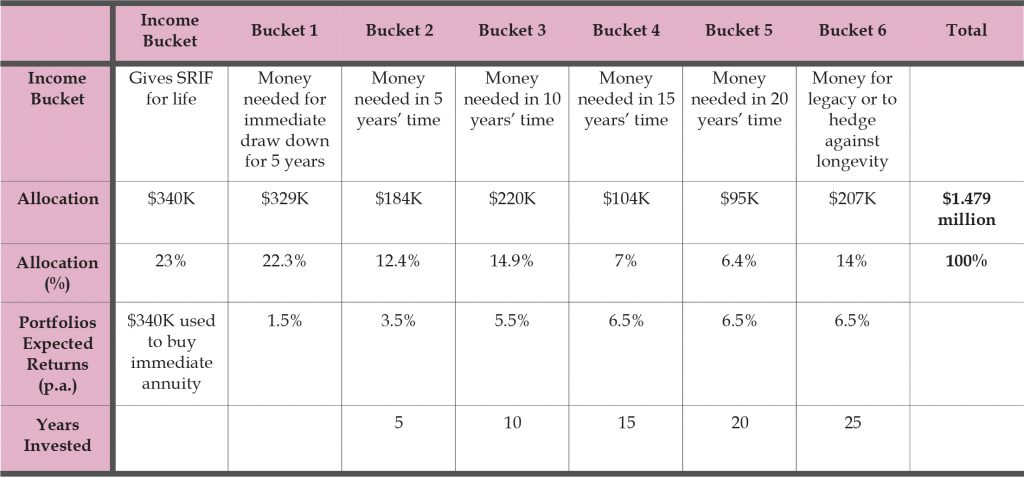 Table 1: How RetireWell Optimizer Allocated David's Resources
How RetireWell Works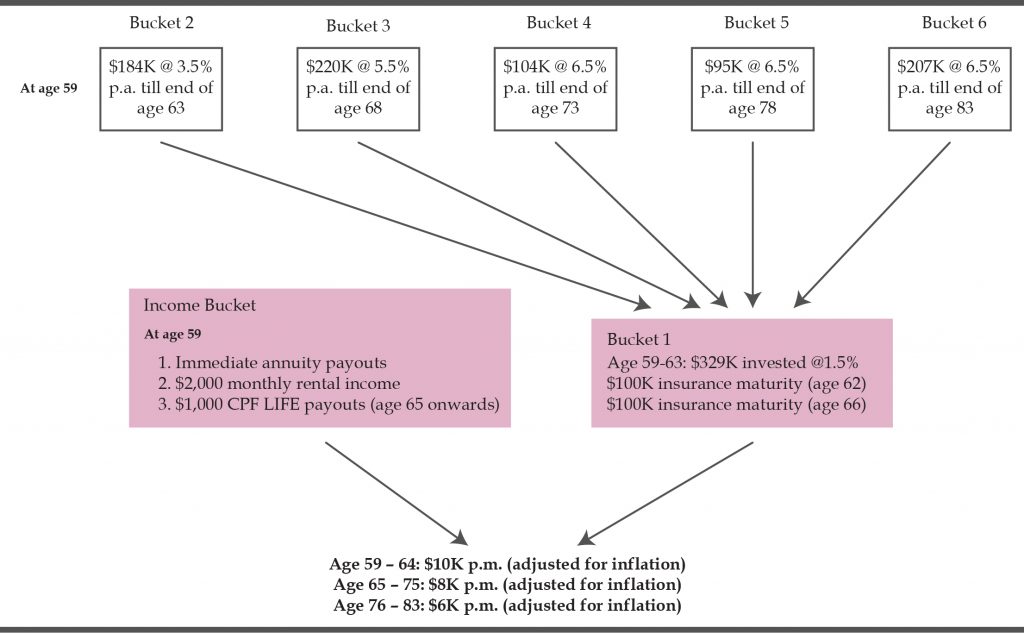 From age 59 to age 83, David will receive a monthly income (adjusted for 3% inflation). A portion of it will come from the income bucket which provides the safe retirement income floor. The rest of it will come from drawing down from bucket 1.
Bucket 1 will contain enough cash to draw down for only 5 years. Once the cash is depleted, cash from the rest of the buckets will be transferred in, at the end of their investment period.
At the end of age 83, all buckets (except income bucket and bucket 6) will be depleted. If David pass on at that time, bucket 6 will have an amount of $1 million to be left behind as a legacy. If David lives on, monies in bucket 6 and income bucket will be drawn down to meet his needs.
The unique strength of RetireWell is that cash needed for the immediate 5 years is always kept in safe instruments such as annuities (income bucket) and near-cash assets (Bucket 1). This is to ensure that retirees will always have a stable income stream regardless of market conditions. Monies that are needed in the latter part of retirement years are spread over different buckets with higher return portfolios invested with a longer investment horizon. This is to lower the volatility risk. In addition, RetireWell is able to make use of different instruments, and assets that the retirees have, even incorporating government schemes.
What this means is that retirees using RetireWell can enjoy the reliability of income with a safe retirement income floor in their retirement years regardless of market condition. Retirees are also able to hedge all the above-mentioned risks in retire and have a peace of mind in retirement.
The writer, Christopher Tan, is Chief Executive Officer of Providend, Singapore's first fee-only wealth advisory firm and author of the book "Money Wisdom: Simple Truths for Financial Wellness".
The edited version has been published in The Business Times on 29 October 2016.
For more related resources, check out:
1. How Increasing Interest Rates Affect Your Leveraged Policy Returns
1. Retire Well in a High Interest, High Inflation Environment
3. Should You Buy Retirement Income Products?
---
Here are the links to the other 10 parts of the RetireWell Series:
We do not charge a fee at the first consultation meeting. If you would like an honest second opinion on your current investment portfolio, financial and/or retirement plan, make an appointment with us today.