When my daughter enrolled in secondary school (about 8 years ago), I started giving her a monthly allowance because I wanted to see if she can manage it responsibly. If she makes the mistake of not budgeting her cashflow well, at least she can learn from the consequences early. As you might expect, it was not smooth sailing. In the first few months, there were at least 2 instances where she came to me and declared that she was "bankrupt" and needed "financial relief". It was a good teachable moment, and a lesson that she remembered well. I have not seen her in "bankruptcy" ever since.
Talking about money with our children is never a one-time conversation. To help them develop a healthy relationship with money and good money habits will require effort from parents. In my day-to-day conversations with clients, it is very common for them to ask me about opening an investment account for their children. However, what is more important is the child's financial literacy so that they can be ready for working life. Unfortunately, this is an area that is not often taught in school. Many of us are forced to pick it up after we start working and wish that we have a better knowledge of personal finance.
As my son turns 15 this month, I have decided to make a list of 3 "financial lessons" to go through with him in the coming months.
Budgeting – Allocating his allowance
Most of the time, my son does not keep track of his expenses as he is given a weekly allowance and receive extra pocket money for the occasional outings with his friends. With the Covid situation unfolding in the last 2 years, there were hardly any holidays and outings that require him to use his savings. However, now that the situation is improving, life should slowly get back to normal and now is a good time to let him manage a monthly allowance and learn how to be financially responsible.
The monthly allowance will be seen more like a pay, tied to academic achievement and completion of some household chores. These expectations will be clearly laid out and discussed with him beforehand. Next, I will be introducing the concepts of budgeting, saving, impulse control and delayed gratification.
One way to do this is by using a savings account and a digital wallet (e.g., PayLah! or GrabPay Wallet). To help him create a budget, he can track his spending via transaction history from the digital wallet. With the monthly allowance credited into his savings account, it will then be allocated to fund three main aspects:
Essential spending (e.g., daily food and transport)
Discretionary expenses (e.g., dining out, movies or games)
Savings
The savings plan can include building an emergency fund (at least 2 months of expenses) and a longer-term savings plan with an emphasis on the concept to "pay yourself first". I.e., set aside the saving amount before spending the balance for expenditure.
Hopefully this time round with some budgeting skills, he will be able to manage the need for instant gratification. The context of limited resources, and to sacrifice short-term needs for long-term good is an important lesson.
Explain compound interest – The eighth wonder of the world
One of the most important concepts before we talk about investment and debt, is how compound interest works. With secondary school maths, it will not be difficult for our children to appreciate how the principal amount can grow exponentially over time. There are many YouTube video resources that illustrate the magic of compound growth (For example, Investopedia Video: Compound Interest Explained and The Miracle of Compound Returns). Another interactive way is to use Excel spreadsheet to demonstrate how compound interest can double the principal in a given period of time. You can then help them to create a saving plan to reach a goal – a realistic amount after 1 year of saving.
After understanding compound interest, it will be good to touch on inflation, investment, and debt. Compound interest can work for us or against us. There are many articles written on such topics and it can be a school holiday "homework" for him. It is also a great opportunity to explain the concept of time value of money, how inflation erodes value and how growth enhances it.
To keep things simple, we can use long-term MSCI World Index equities return to illustrate how diversified investment portfolio can work for us. Although there were many crisis events in the last 50 years, the market always rewards the patient investors. MSCI World has an average growth of 7.8% p.a. from year 2000 to end 2020.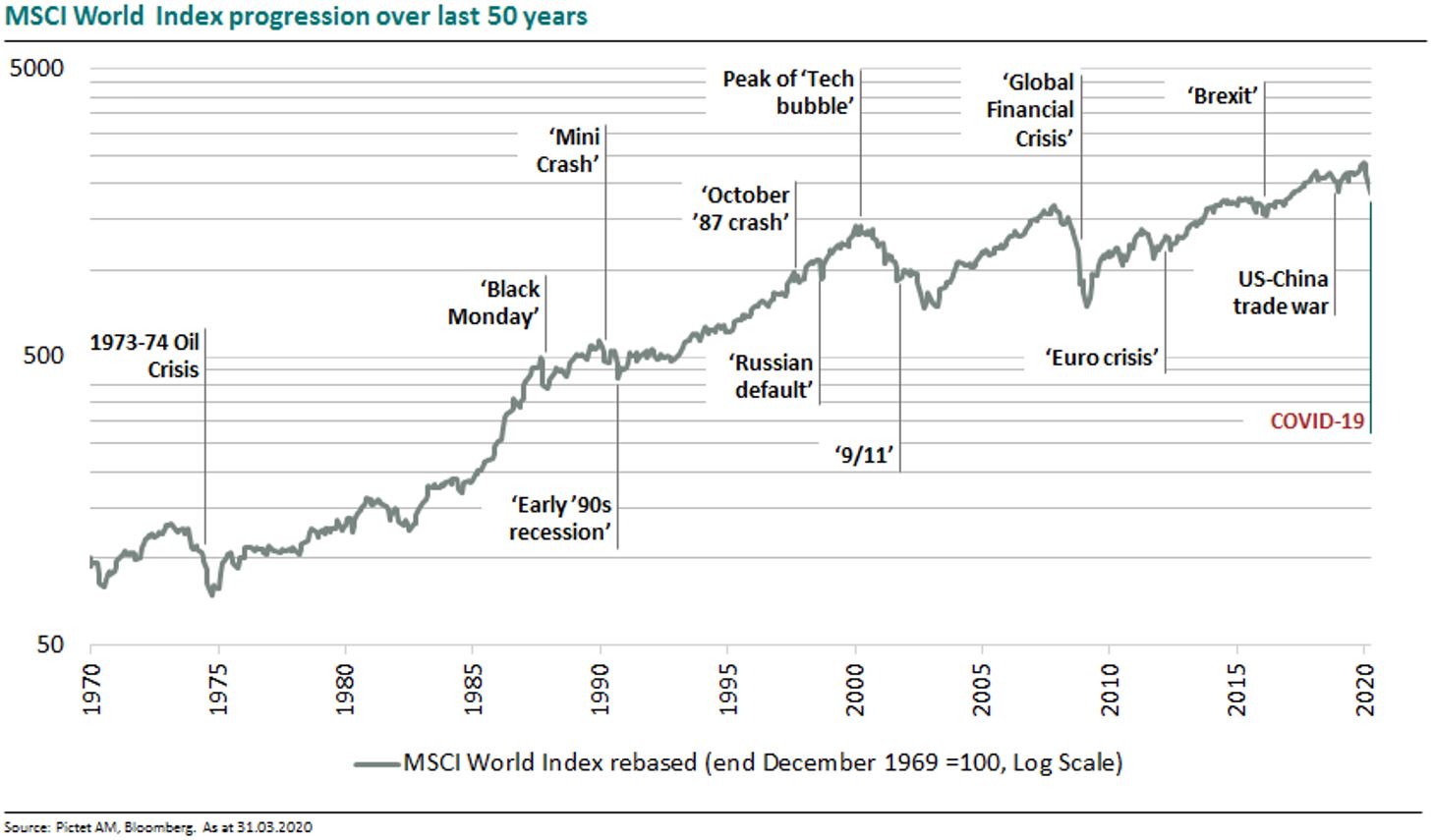 An example of how compound interest can work against us will be credit cards debt. Although we use credit cards for ease of purchases, we need to develop prudent financial habits to repay the bills in full and in a timely manner. You would be surprised to know that the credit card interest rate for one of the local banks is 26.8% p.a.!
Understand how CPF supports our long-term goals
CPF is a good tool to help our children understand financial goals in adulthood. The 3 CPF accounts to save for home ownership, retirement and healthcare protection is a good place to start the conversation. Awareness of CPF and their uses will help our children appreciate the financial needs for different life stages. We can consider parking some of their annual "Ang Pao" money into their CPF accounts as the first $60k balance earn up to 5% p.a., totally risk free. With the current low bank interest environment, CPF offers an attractive option for a better return. However, we also need to know the liquidity risk, as the usage of CPF savings is limited to the rules of the respective CPF accounts.
I think I will be having a money conversation soon with my children. One is at the beginning of this journey and the other is now ready to start an investment account. I believe this conversation will continue on with them for quite a few years and hopefully it will help them to develop good financial habits as an adult.
This is an original article written by Lee Chee Kian, Senior Client Adviser of Providend, Singapore's First Fee-Only Wealth Advisory Firm.
For more related resources, check out:
1. The Magic of Compound Interest
2. Why Parents Should Start Thinking About Retirement Now (Part 1)
3. A Stitch in Time Saves Nine – Do Both Annual Health & Financial Screening
---
We do not charge a fee at the first consultation meeting. If you would like an honest second opinion on your current estate plan, investment portfolio, financial and/or retirement plan, make an appointment with us today.