MediShield Life was introduced back in the year 2015, a revamp from its predecessor "MediShield". The key design for the plan is to provide affordable medical treatments for all Singaporeans and Singapore PRs regardless of their health conditions and to give a better benefit for lifetime coverage at the public hospitals (B2 or C wards).
Integrated Shield Plan (IP) provides coverage on top of MediShield Life and is offered by private insurance companies. Different IPs provide different variety of coverage, such as public hospital wards of A and B1 and local private hospital wards. Private insurance companies also provide additional coverage (riders) to cover the deductibles and co-insurance.
When Integrated Shield Plan was first introduced, its intention is to provide reasonable healthcare treatment for Singaporeans and Singapore PRs at an affordable insurance premium. However, as time goes by, the private insurance companies slowly suffered losses from IP and as a result, we have seen the yearly premium adjustment by private insurance companies to cover the losses they have made.
Over the years, IP has changed for better control and benefits to the 3 groups of stakeholders, namely consumers, medical institutions, and insurers. The changes started with introducing the panel and non-panel coverage offered by private insurance companies to control the quality of treatment conducted by the panel doctors. Subsequently, co-payment and the removal of 100% coverage to better control the treatment cost were also introduced.
New changes for MediShield Life
Starting 1 September 2022, a new restriction on using off-label cancer drugs for cancer treatment will be imposed by MediShield Life. This new restriction came way back on 17 August 2021 when MediShield Life Council recommended that the Ministry of Health creates a positive list of clinically proven and cost-effective outpatient cancer drugs. Cancer drugs that fall outside of this positive list or are used in other ways other than that described by the list will be considered off-label cancer drugs. It will not be covered under MediShield Life. With the new changes in place, private insurance companies will also implement this new restriction starting from April 2023.
Cancer patients on the rise
Before we go into the details, let us first understand more about cancer statistics in Singapore.
Based on recent data, there is an increasing trend of cancer patients over the past 50 years. In 2010, there was an average of 31 people being diagnosed with cancer every day. Between 2015 to 2019, the number increased to an average of 43 a day.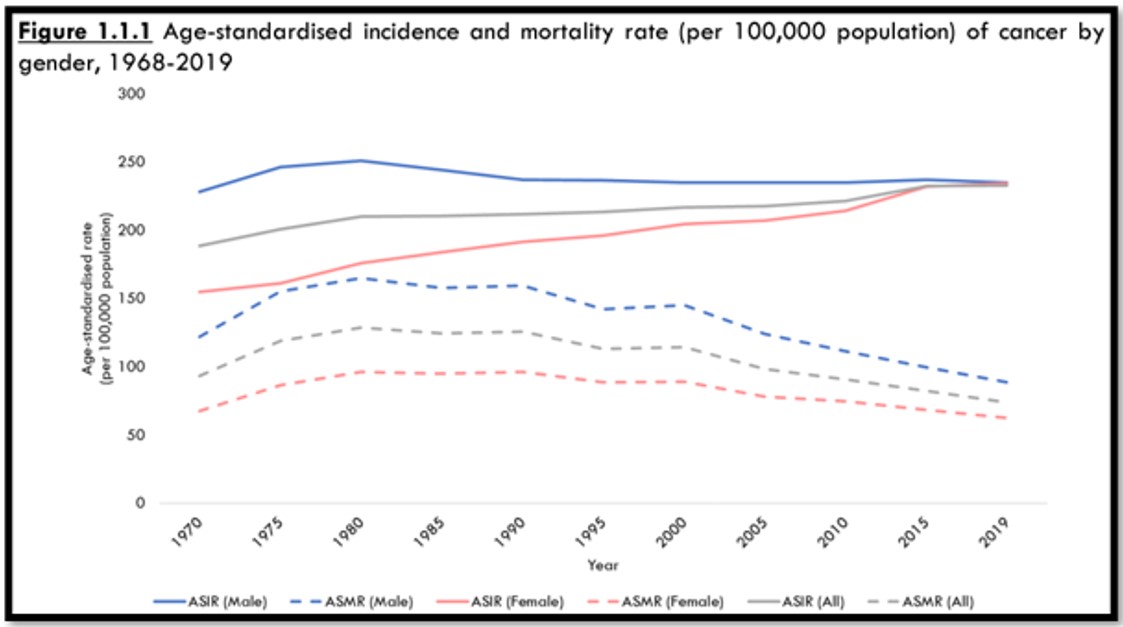 According to Singapore Cancer Registry Annual Report 2019, the grey solid line is the average number of Singapore residents diagnosed with cancer, which is on the uptrend. Whereas the grey dotted line is the average number of Singapore residents who passed on due to cancer, and it is shown to be on a downward trend. This shows that while there are more cancer patients being diagnosed, they are living a longer life.
This could be due to medical technology advancements and early detection from health screening. Studies have shown that being diagnosed with cancer is no longer a death sentence. In fact, the survival rate had increased from 18% in 1968 to 60% in 2022. There are also more treatment options available (such as immunotherapy) that can bring cancer diseases under control.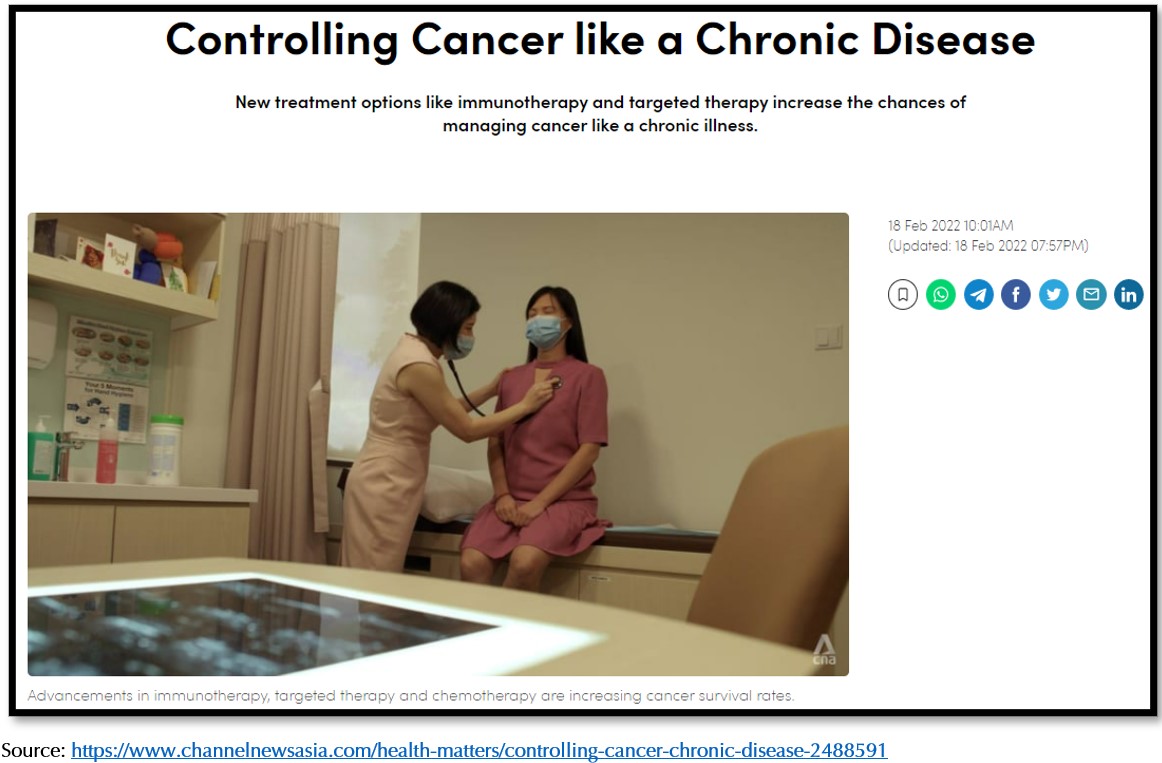 Why is there a need to impose new restrictions?
In 2019, cancer patients account for about 2% of all patients and spent $375 million out of $1.2 billion on cancer drugs, which constitute about 35% of public sector drug spending.
On average, cancer spending has been increasing at a compounding rate of 20% compared to non-cancer treatments which increase by about 6%. If the current situation is not controlled, Singapore is projected to spend $2.7 billion on cancer drugs in 2030.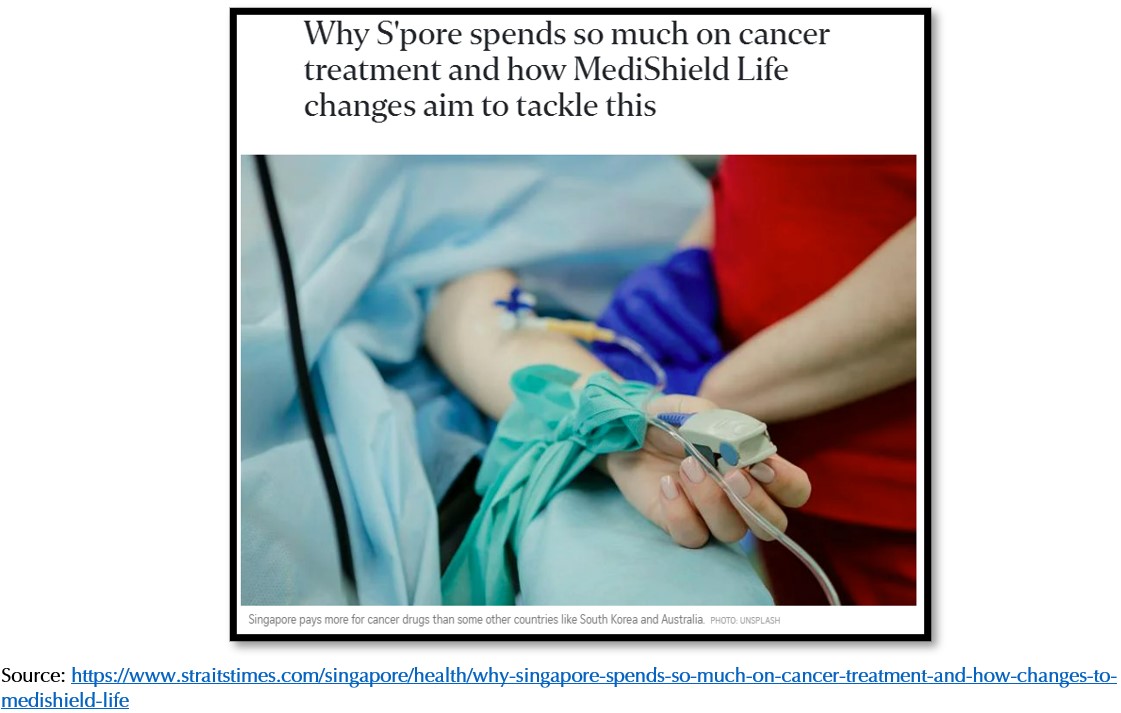 Based on research by Agency for Care Effectiveness (ACE), about 50% of new cancer drugs entered the market without evidence of benefits on survival or quality of life. Even with clinical outcomes, they only have marginal improvement, but the cost of the drugs is high. The rising cost of off-label cancer drugs drives up health insurance premiums and reduces affordability, especially for lower-income individuals. In most countries, there is no subsidy or reimbursement for off-label use of cancer drugs due to the uncertainty over clinical benefit, risk of side effects, and safe use of drugs. With Singapore's ability to cover the cost of cancer drugs through insurance, the drugs sold by pharmaceutical companies are thus more costly. The same drugs could cost double in Singapore compared to Australia, New Zealand, South Korea, and Taiwan.

With medical technology advancements, more treatment options may come with higher costs. Traditional cancer drugs typically cost several hundred dollars a month whereas newer treatments such as immunotherapy can cost more than $5,000 per month.
If the cost is uncontrolled, it will eventually be passed down to the consumers through higher insurance premiums in the future. With the new restrictions, the government can have a better price negotiation with drug manufacturers. Some drug prices for the public sector have since dropped by 30% to 60%.
How does it affect us?
Generally, the new restriction mainly affects off-label cancer drugs. Drugs for other non-cancer illnesses such as heart disease, stroke, etc. have not been affected.
With the new regulation, there are some new adjustments to the MediShield Life and MediSave limits.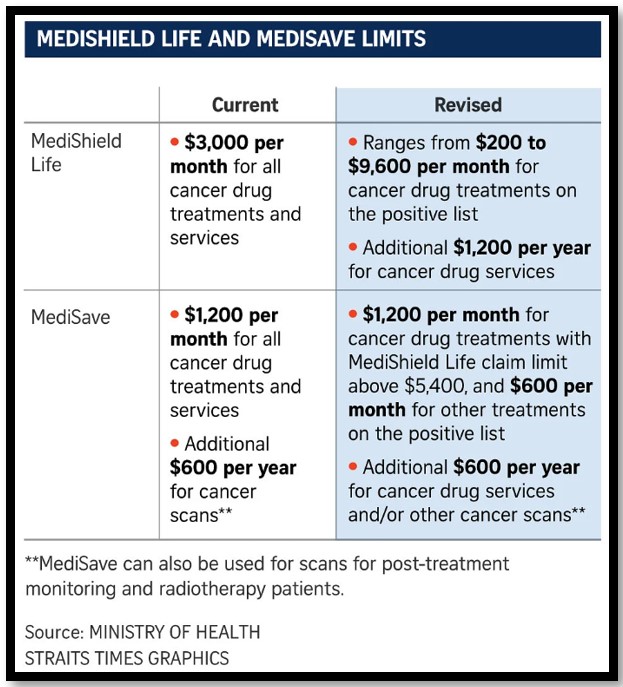 The key difference is that the revised limits have higher benefits for more expensive cancer drugs which are on the positive list. About 90% of the existing cancer drugs and treatments in the public sector are included in the positive list. There will also be ongoing monitoring and evaluation by ACE on including more cancer drugs on the positive list.
If an off-label cancer drug has shown effectiveness against a cancer patient, it can be appealed to be included in the positive list. However, the appeal could take up to a year and during this period, the cancer patient has to continue to bear the cost.
Off-label cancer drugs are also available in the public sector at a far lower cost as compared to the private sector. Seeking treatment at public hospitals could be a way to lower the cost of treatment should the cancer patient face financial difficulties.
Hence, having such a restriction could bring some level of disruption. However, it could also bring down the overly priced cancer drugs and maintain a good level of insurance premium that is more affordable to the majority of Singapore residents.
What are the current solutions?
Integrated Shield Plan Rider (IP Rider)
While the IP main plan will be subjected to new restrictions, there is no restriction on the current IP rider. Private insurers are currently reviewing their IP riders, and changes will be announced by April 2023. Having an IP rider can significantly lower the medical expenses outlay, such as covering annual deductibles and limiting co-insurance to a co-payment of $3,000 per policy year if one is treated by a panel doctor.
Understanding our own needs and expectations of medical treatment is important as it helps us to decide on how much coverage we need.
Critical Illness Plan
We must understand that having huge critical illness coverage to pay for hospital bills is not feasible as the cost will be high, and the benefit is not as good as compared to medical insurance (treatment or surgery that does not involve critical illnesses). However, a critical illness plan is best used as a form of an income replacement tool for working adults.
In the event of critical illness, a working adult may require some time off from work (no pay leave) to recuperate. During the period, daily expenses and bills will pile up and this will eventually cause the working adult to dip into his/her saving pot. It is therefore prudent for the working adult to be sufficiently insured for loss of income.
At Providend, we advocate that apart from having income replacement coverage for critical illness, it may be good to purchase an additional critical illness plan to cover alternative treatments for a lifetime. This additional layer of critical illness coverage is to complement our current IP to cover the medical expenses leakage (such as off-label cancer drugs, traditional Chinese medicine treatments, or supplements).
Pre-existing conditions
For patients who have medical conditions, there are plans available in the market which cover certain illnesses. We have written an article regarding the purchase of insurance for pre-existing conditions. To find out more, you can visit the link – https://providend.com/can-you-still-buy-insurance-if-you-have-medical-conditions/.
Conclusion
Getting an Integrated Shield Plan is still very relevant today. By paying an affordable premium, we are able to cover a large part of our hospital bills or treatments not only for cancer-related conditions but also other diseases such as heart disease, stroke, day-surgery, etc. It may seem like they are cutting in benefits, but in fact, they are tightening the claim eligibility to enable premiums to remain affordable for consumers and the cost of treatment to be kept fair and reasonable by doctors and specialists. At the same time, insurers can better manage the insurance fund and price the premium at fair and reasonable rates.
To sum up, it is necessary to have a constant review of the policies with regard to MediShield Life and IP to maintain a healthy and robust ecosystem that benefits insurers, medical institutions, and consumers.
This is an original article written by Mike Zhang, Insurance Specialist at Providend, Singapore's First Fee-Only Wealth Advisory Firm.
For more related resources, check out:
1. Understanding Integrated Shield Changes
2. Is Premium Financing Still as Attractive?
3. How Much Life Insurance Do You Need
---
We do not charge a fee at the first consultation meeting. If you would like an honest second opinion on your current estate plan, investment portfolio, financial and/or retirement plan, make an appointment with us today.