PROVIDEND'S MONEY WISDOM PODCAST SEASON 2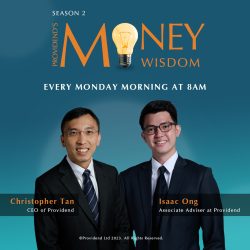 Providend's Money Wisdom Podcast Season 2
by Isaac Ong, Associate Adviser & Christopher Tan, CEO
Providend's Money Wisdom podcast is an original podcast by Providend Ltd. In each episode, your hosts, Isaac Ong or Christopher Tan, will be joined by an expert guest as they discuss popular wealth topics to share their money wisdom with you. We hope to guide you in navigating through the minefields of misinformation and false promises in order to achieve financial security and peace of mind.
New episodes would be published every Monday morning at 8am. So follow us on your favourite podcast platform or subscribe to our weekly newsletter to never miss any episodes.
Let Us Help You
Speak to our advisers about your concerns so we can help you achieve your goals. We offer a complimentary, no obligation initial meeting to get to know you better.